Razer Raiju Mobile gaming controller supports Android phones from any brand
8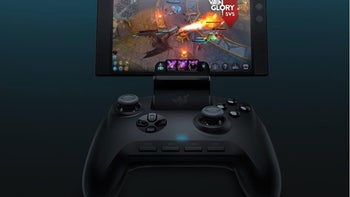 Gaming peripheral giant Razer is clearly taking the smartphone market more seriously this year after what was essentially an experiment back in 2017, improving its 120Hz powerhouse in
pretty much every conceivable way
, from camera performance to build quality, cooling efficiency, and battery life.

But the company is also bringing its gaming accessory-making expertise to the mobile industry, unveiling an Android-specific version of its popular PS4 Raiju gaming controller.
Aptly named the Razer Raiju Mobile, this is compatible with not just the
Razer Phone
and
Razer Phone 2
, but any Bluetooth-capable or USB C-connecting Android handset running 6.0 Marshmallow and up.

Priced at $149.99, the somewhat bulky (weighing 306 grams) all-black controller has a clear mission - "level up your mobile gaming performance." A quartet of individually remappable multi-function buttons are likely to give you an edge on any opponent, along with a Hair Trigger Mode for "rapid fire", and sensitivity clutch levels bound to prove especially useful when playing FPS titles.

By far the key selling point of the Raiju Mobile, at least for hardcore Razer fans, is the company's signature "Mecha-Tactile" technology, integrated into the action buttons of this smartphone controller to always keep you one step ahead of your antagonists.

To ensure this bad boy can keep up with your extended gaming sessions, a single charge purportedly delivers up to 23 hours of battery life. The built-in phone mount guarantees a comfortable playing experience in many different environments, tilting up to a 60-degree angle for extra flexibility.

Basically, the only apparent flaw of the Razer Raiju Mobile is the absence of a release date. Well, that and the fact there still aren't many good Android games capable of exploiting the full potential of such a powerful controller.