Razer Phone 2 prematurely goes up for pre-order in Italy at the equivalent of $1,000
17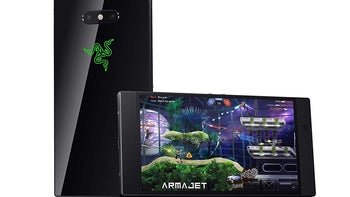 Gaming hardware specialist Razer is getting ready to
formally unveil its sophomore smartphone effort
, but as if we didn't already
know enough about the 120Hz-capable powerhouse
, it seems Amazon may have jumped the gun in Italy.

The Razer Phone 2 (technically, the Razer RZ35-0259GR10-R3G1 - Smartphone 2) is already up for pre-order (probably not for long), fetching a little over €870 with an estimated October 12 shipping date.

Of course, it's unclear if those are the official price tag and release date of the Razer Phone 2 or merely placeholder information, but €870 roughly equates to $1,000 right now, exceeding the European MSRP of the handset's predecessor. On the bright side, October 12 is right around the corner.
Rendered yet again in black, with all corners and angles visible, the second-gen Razer Phone doesn't exactly look "modern." It has similarly huge bezels as
its forerunner
, no notch, a centered dual rear-facing camera arrangement, and a new water-resistant glass build.

Wireless charging functionality is also added to Razer's hardcore gaming-friendly equation, but the brand's hardcore fans are likely to be far more excited about Chroma RGB tech adoption.

Basically, that means the already swanky company logo on the back of the phone will support customizable RGB lighting. If you're more interested in under-the-hood improvements, don't worry, the Razer Phone 2 will pack Qualcomm's latest Snapdragon 845 processor, alongside a generous 8GB RAM and... not-so-great 64GB internal storage space.

Oh, well, there may be more than one variant in the pipeline, no doubt sharing a 5.7-inch UltraMotion screen with 2560 x 1440 resolution and 120Hz refresh rate, as well as Dolby Atmos-enhanced front-firing stereo speakers, a "unique" Vapor Chamber cooling system, and dual rear shooters with (optical?) image stabilization.

No word on battery capacity, but the Razer Phone 2 is listed as weighing 222 grams, compared to 197 for the original model, sparking hopes for an upgrade beyond 4,000 mAh. Only a few hours left until finding out for sure.