Qualcomm already has 18 manufacturers ready to use its 5G modem next year
8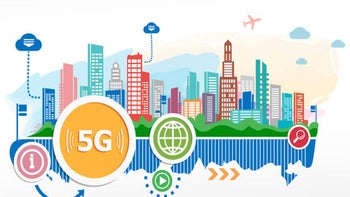 Qualcomm announced today that the Qualcomm Snapdragon X50 5G NR modem series will be found inside devices manufactured by at least 18 different manufacturers. These companies will use the component to "deliver next-generation 5G mobile experiences to consumers." The Snapdragon X50 5G NR modem will start shipping in 2019, and will help usher in speeds in the multi-gigabit per second range, with significantly lower latency than seen with today's 4G LTE networks.
The chip designer says that 5G enabled smartphones will connect to public Wi-Fi without having to log-in. Qualcomm says that these handsets will enjoy faster downloads, faster browsing, higher-quality video calls, instant cloud access and 360-degree video streaming. Lastly, 5G will bring superior mobile internet connectivity, and the company says that the next generation of wireless will offer "massive capacity to support insatiable consumer demand for unlimited data." Last October,
the modem chip was successfully tested
, with download speeds greater than 1Gbps achieved.
"Qualcomm Technologies is deeply committed to helping our customers deliver next-generation 5G mobile experiences to consumers, which requires enhanced mobile broadband 5G NR connectivity enabled by 5G NR networks, mobile devices and the Snapdragon X50 5G modem. As evidenced by our work with these distinguished OEMs from around the globe and as we demonstrated in 3G and 4G LTE, Qualcomm Technologies is utilizing our deep expertise and technology leadership to support the successful launch of 5G NR, driving innovation in the mobile ecosystem."-Alex Katouzian, senior vice president and general manager, mobile, Qualcomm Technologies
The 18 manufacturers that will use the Qualcomm Snapdragon X50 5G NR modem as soon as next year include:
Asus
Fujitsu Limited/Fujitsu Connected Technologies Limited
HMD Global (Nokia phones)
HTC
Inseego/Novatel Wireless
LG
NetComm Wireless
Netgear
Oppo
Sharp Corporation
Sierra Wireless
Sony Mobile
Telit
Vivo
Wingtech
WNC
Xiaomi
ZTE
source: Qualcomm