Latest Galaxy S23 renders are probably fake, but the color options are correct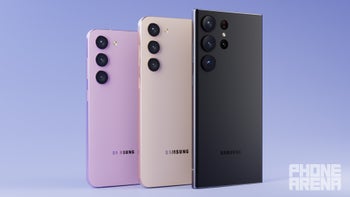 In all likelihood, if you are impatiently looking forward to the
Samsung Galaxy S23
lineup, you have seen the latest
renders
flying around the internet. At first glance, they look very promising, but, unfortunately, we are going to have to disappoint you - they are most likely fake.
Here at PhoneArena we independently ran the images through
FotoForensics
, an online tool designed to help identify doctored images, and indeed, the analysis results suggest that these images have been photoshopped.
Additionally, prominent tech tipster
@IceUniverse
has highlighted a number of design inaccuracies of the renders, which also suggests that they are, in fact, not genuine. This includes botched antenna positioning and the incorrect addition of an infrared emitter on the
Galaxy S23 Ultra
, amongst other important details. All of the information is available on @IceUniverse's
Weibo feed
.
It should be noted that the renders could come really close to the real thing, despite being fake. After all, we are aware that the design of the Galaxy S23 lineup will not be drastically different from that of its predecessors.
What made these particular renders so special, however, was the fact that they showcased the color options of this year's models. And while we are now certain that these will not be the exact shades of the Galaxy S23 family, the fake renders do a good job of reflecting the correct color options in general.
In
another Weibo post
, @IceUniverse has confirmed the official color options in which the Galaxy S23 Ultra will be available. Odds are that they will be the same across all three Galaxy S23 models. The official colors include: (1) phantom black, (2) plant green, (3) fog lilac, and (4) cotton flower. In layman's terms, we can expect shades of black, green, pink and beige.
Given the ceaseless stream of leaks in the weeks before the launch of the S23 (expected to take place in early February), it is only natural that some of them turn out to be wrong. At least all will be revealed fairly soon.