Galaxy S23 review: this $800 phone is amazing if you spend $860 on it
23
We may earn a commission if you make a purchase from the links on this page.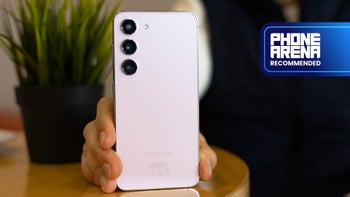 Galaxy S23 Intro
Samsung's
Galaxy S23 series
launched at the start of this year, which kind of puts it near the end of its first year — or its refresh cycle. Rumors say that Samsung is eyeing a January release date for the
Galaxy S24
, which means that some savvy shoppers may be feeling hesitant to pull the trigger on a
Galaxy S23
in late 2023.
But thing is,
Galaxy S23 deals
pop up left and right nowadays, and with the upcoming Black Friday and Cyber Monday events, you are sure to find a massive discount on it. Maybe it's not a bad idea to score that deal and not worry about the S24?
Well, let's consider what the base
Galaxy S23
brings to the table:
There are very little compromises to be made with the
Galaxy S23
— in fact, we only advise against buying its lowest storage tier, since it uses an older UFS3.1 chip. Upgrade to the 256 GB model for $60 extra and you're golden.
Both the US- and EU-bound
Galaxy S23
variants come with one type of processor. And what a processor it is — a Qualcomm Snapdragon 8 Gen 2 "made for Galaxy". Since Samsung and Qualcomm were partners on the development of the chipset, the special edition that's reserved for
Galaxy phones
is slightly overclocked, going that extra bit of distance when you need the maximum "Oomph" from your device. And by that, we mean "benchmark bragging rights".
Of course, we also got a facelift, some camera improvements, and extra tidbits behind and in front of the curtain. Let's dive in with the
Galaxy S23
!
The one thing to look out for in the
Galaxy S23
, and we will tell you this right off the bat, is the storage options! The
Galaxy S23
128 GB tier has a UFS 3.1 chip, while any other phone in the range comes with UFS 4.0 and LPDDR5X. If you are after the compact S23, we do recommend you get the 256 GB version (thankfully, it's now a free upgrade during the pre-order period)!
What's new about the device
Snapdragon 8 Gen 2 made for Galaxy, overclocked and tuned
Upgraded internal cooling for better sustained performance
New design, a-la S22 Ultra
Selfie camera improvements
Slightly increased battery
Galaxy S23

Unboxing
The current standard is to get a thin box with just the phone and data cable inside. Some booklets and a SIM ejector tool, too, of course.
The box of the
Galaxy S23
is made entirely out of recycled paper, as Samsung is looking to green-ify its product lines as much as possible. The
Galaxy S23
itself is built with 20% recycled plastic, 22% recycled glass — where possible.
Galaxy S23

Specs
The next Samsung flagship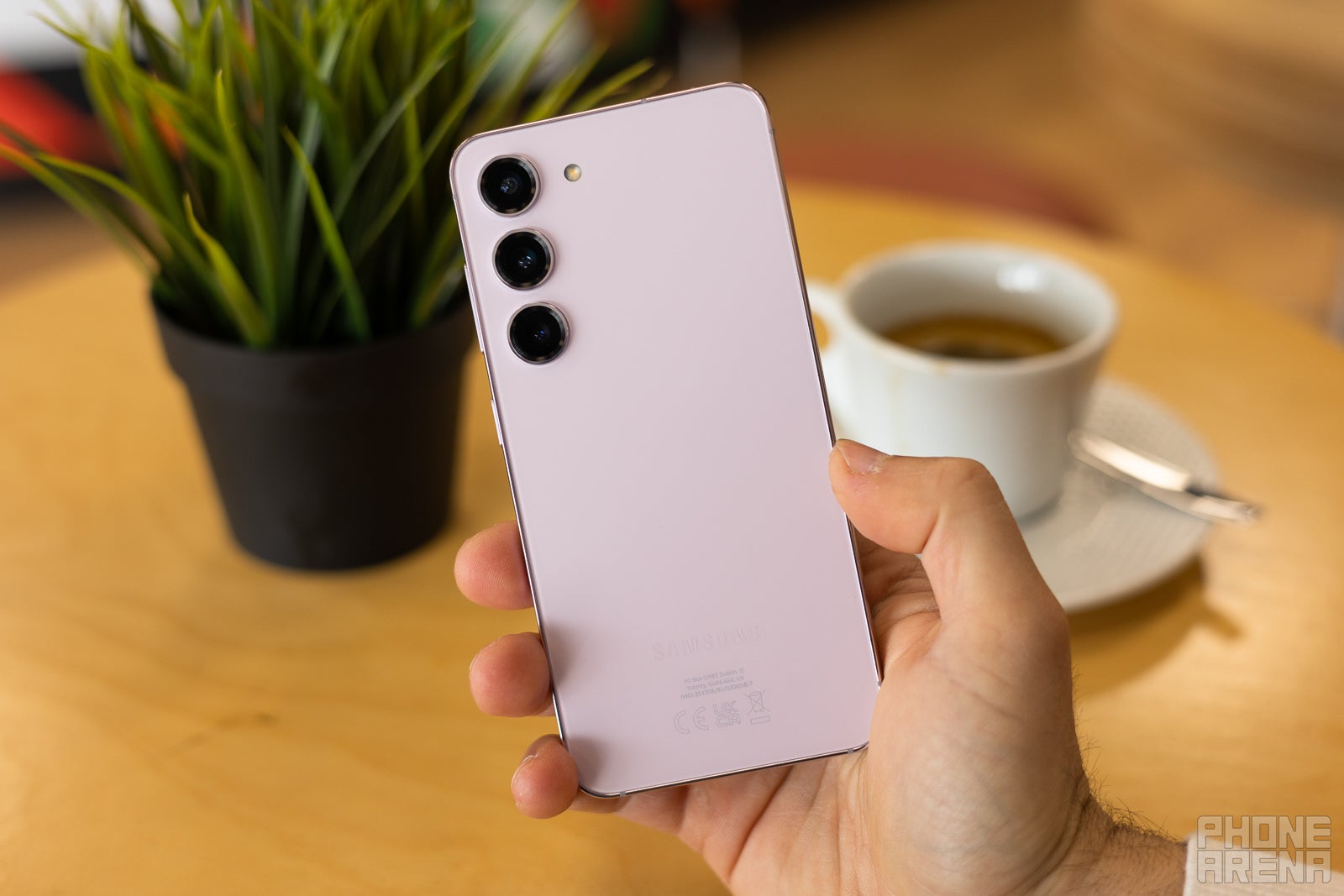 Now that the cat is out of the bag, we have the official specs of the
Galaxy S23
. Here goes:
Specs
Samsung Galaxy S23
Size and Weight

5.76 x 2.79 x 0.30 inches (146 x 70.9 x 7.6 mm)

Display
6.1" AMOLED, 120 Hz, 1080x2340 pixels, 1,750 nits peak
Processor
Qualcomm Snapdragon 8 Gen 2 for Galaxy, 3.36 GHz
RAM
8 GB
Storage
128 GB / 256 GB
Software
One UI 5.1 / Android 13
Cameras
50 MP wide camera, F1.8
12 MP ultra-wide camera, F2.2
10 MP 3X telephoto camera, F2.4
12 MP selfie, F2.2
Battery Size
3,900 mAh
Charging Speeds
25 W cable, 15 W wireless
Price
starting from $799
The S23 looks like a proper evolution of the S22. The battery is up by 200 mAh, the design has been touched up a bit, the selfie camera gets a bump to 12 MP over last year's 10 MP. The main camera module looks like a rehash of the S22 series, but this time around — we get 8K video at 30 FPS as an option (it was locked to 24 FPS before).
The Snapdragon 8 Gen 2 here is a special edition — branded Snapdragon 8 Gen 2 Mobile Platform for Galaxy. Not only is it clocked to a slightly higher tick rate, it also helps with the camera trickery behind the curtains. The processor's Semantic Segmentation intelligently identifies objects, faces, body parts, what's in the foreground and what's in the background, to achieve much more convincing post processing effects. On the Galaxy, it can do that with the selfie camera as well!
It's not all sunshine and rainbows, though. If you choose to buy the entry level
Galaxy S23
128 GB, you will find that it is at a slight disadvantage to its sibling. This cheapest
Galaxy S23
will come with a UFS 3.1 storage chip and LPDDR5 RAM. Any other
Galaxy S23
— either the upgrader 256 GB option, or any
Galaxy S23+
and
Galaxy S23 Ultra
— get a much faster UFS 4.0 and LPDDR5X RAM chips.
Here's another incentive to upgrade — out of the box, the system of the
Galaxy S23
already takes up to 40 GB of storage (curiously, S23+ and S23 Ultra software takes up to 60 GB). This means that, if you buy the entry level 128 GB, you will quickly be running out of storage. This, and the speed upgrade, is why we firmly recommend upgrading to the 256 GB model (thankfully, a storage upgrade is free during the current pre-order period).
The good news is that a storage upgrade is only $60, so it's not a huge deal. At this point, we kind of wonder if the 128 GB version only exists so Samsung can say the phone "starts from $799".
Galaxy S23

Models
We are looking at the base
Galaxy S23
here, but the family will include three devices —
Galaxy S23
,
Galaxy S23+
, and
Galaxy S23 Ultra
, with the last one being the absolute beast... as is customary.
Typically, the non-Plus is the smallest member of the series. With a compact shape and a lowest cost, you could argue that the
Galaxy S23
is the true flagship, as its expected to be the most mainstream-friendly phone.
Galaxy S23

Design & Colors
Classy design, subdued finishes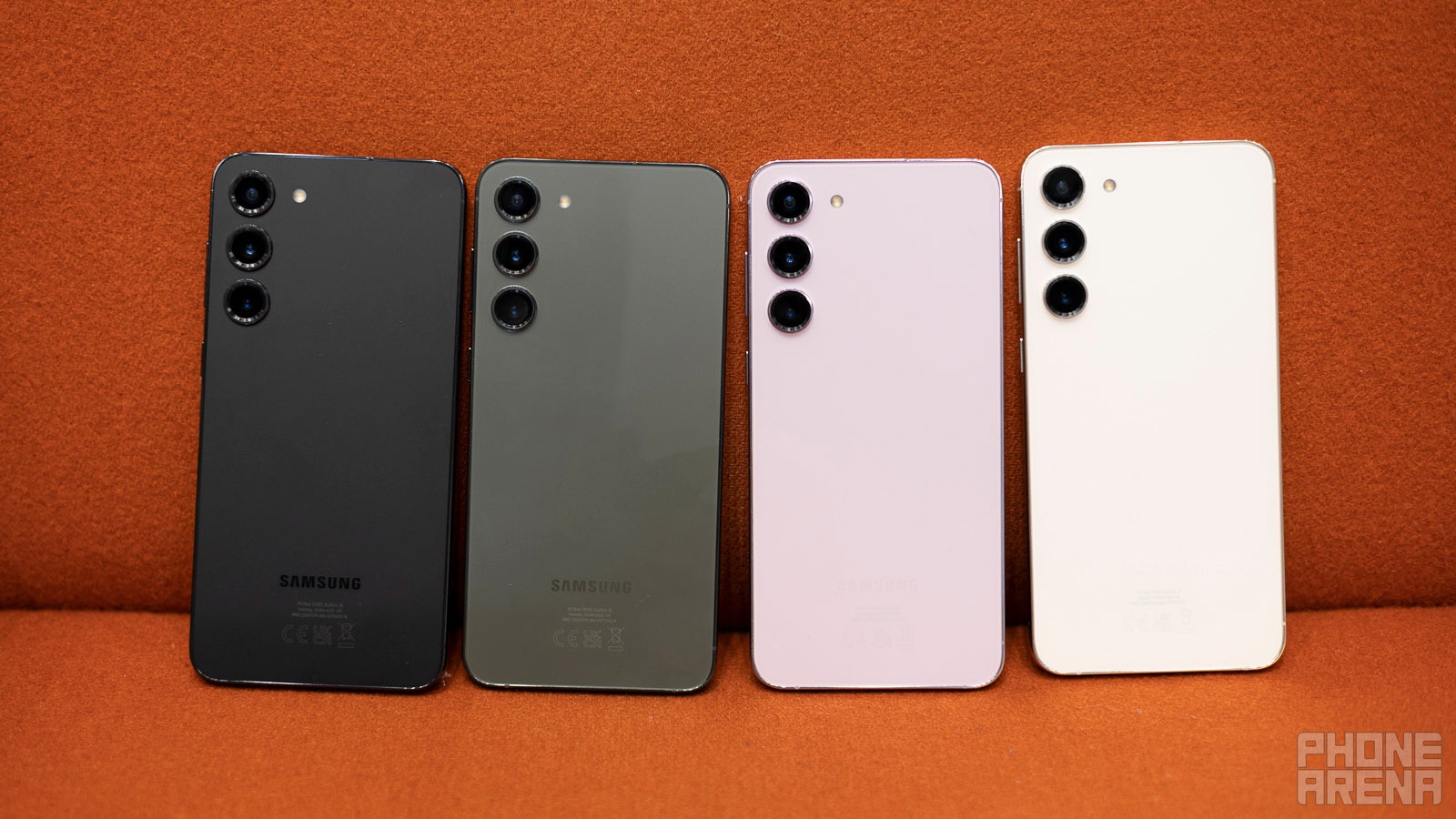 Galaxy S23 colors (Picture credit - PhoneArena)
If you've been hoping for hot and vibrant colors on the
Galaxy S23
— sorry. The
official colors
are Phantom Black, Cream (kind of beige), Green, and Lavender (purple-ish). They are quite subdued and earthy, keeping a low profile in an understated elegance.
As is customary, you can pick up exclusive colors from Samsung.com — this year, they are Lime and Graphite.
We'd say they go well with the new design of the S23 phones. Gone are the bold camera modules that are glued to the phone's frame and stick out from behind. Now, the back is entirely flat, with only the lens-protecting metal rings protruding out there.
So, yes, the phone will still rock if laid flat on a table — we can't have this classic ruined, now, can we? But the entire look of the
Galaxy S23
series has been unified and they all kind of look like the S22 Ultra from last year.
The metal frame on the side is still flat-ish, with a slight arch to it, and the screen is entirely flat. No edge curves here.
This all works in tandem with a body that we can call compact… by 2023 standards, the
Galaxy S23
is quite pocketable. If using a phone with one hand is a priority over media consumption, we'd put this phone on our list of suggestions.
Galaxy S23

Display
Samsung is on top of its AMOLED game. Bright, vivid, sharp, and beautiful screens that the company has been perfecting over the last decade. The
Galaxy S23
keeps this up, but now turns the brightness up... way up. The tiny phone is capable of hitting 1,750 nits of peak brightness if needed. And you will definitely not need more than that, even under the scorching August sun.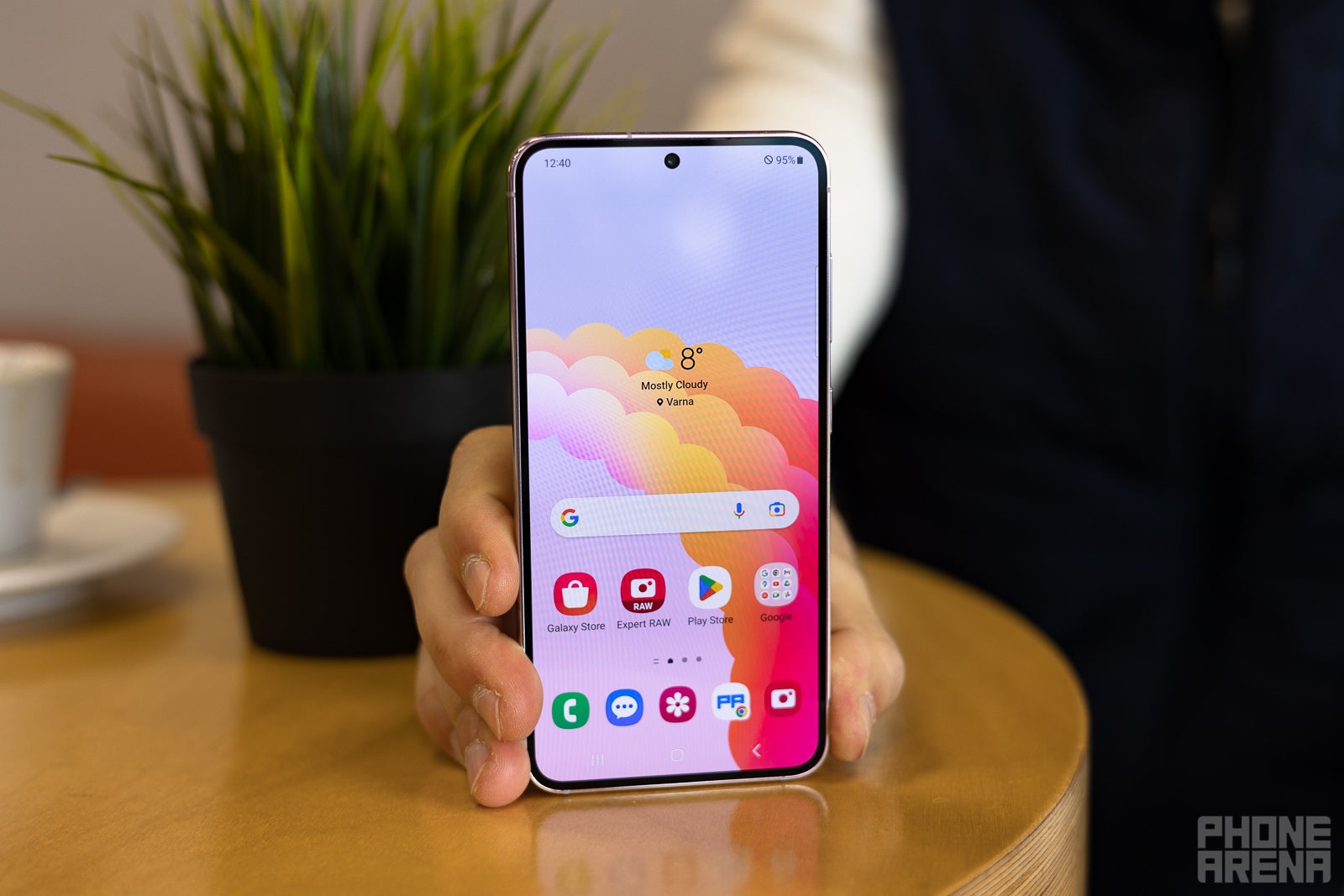 Galaxy S23 display (Picture credit - PhoneArena)
It's still a 6.1-inch diagonal with an aspect ratio of around 19.5:9 maintaining a narrow and tall build. With an FHD resolution of 1080 x 2340, we get PPI ratio of around 425. That's pretty sharp — you won't be counting the pixels on this screen.
Display Measurements:
If we turn off the software optimizations, we can see the screen leans slightly towards the greenish tints. Surprisingly, the Galaxy S22 from last year had more accurate colors than the current S23, at least our test units did. However, when we use the phone as a daily driver, we have the Eye Comfort Shield feature always on — it adjusts color temperature based on time of day. And the cold tendencies of the panel are never an issue, if at all noticeable.
Galaxy S23

Camera
Your upgrade is in another castle
Unfortunately there's not much new to say about the
Galaxy S23
camera. It's still a 50 MP main, 12 MP ultra-wide, and 10 MP telephoto combo like last year. Physically, they seem to be the same cameras, but the power of the Galaxy-edition Snapdragon 8 Gen 2 does change some things.
Ultra-wide
We do find the
Galaxy S23
to be tuned for slightly warmer photos than the S22. Also, we couldn't help noticing that it has a more powerful HDR, flattening out the high dynamics in a shot even more. It's quite impressive, but at this point, some users might prefer the slightly more contrast-y looks from an S22, for example.
However, the
Galaxy S23
also seems to deliver a bit more realistic colors — saturation seems to be dialed back by just a bit, but that's enough to reign in those vibrant greens and neon skies that we've seen from Samsungs before.
The same calibration and rules apply for the ultra-wide camera.
Zoom and Portrait mode
While the Qualcomm Snapdragon 8 Gen 2 is supposed to have some insane subject separation for Portrait modes, we can't really say we see any massive improvements here. That's mostly because Samsung's Portrait mode was already pretty good in that aspect. We would've liked to see a more convincing-looking background blur, or less smoothening on facial features. Gripes aside, it's a pretty solid Portrait Mode.
As for zooming — the
Galaxy S23
can only do up to 30x digital and it's not great. You can say you have it… but you probably will never use it.
Selfies
The jump to a 12 MP selfie sensor is visible here with some impressive details in the shots — we see no abhorrent oversharpening, yet the details in the winter hat look so real, you can almost touch it!
The dynamics are also handled quite well and the Snapdragon Semantic Segmentation is also applied here for better portraits — this is the fist smartphone to use the Qualcomm tech for the selfie side.
We can now also record 8K video at up to 30 FPS, as opposed to being locked to 24 only. And we noticed quite the improvement in stabilization as well, despite the fact that this was an upgrade touted for the
Galaxy S23 Ultra
.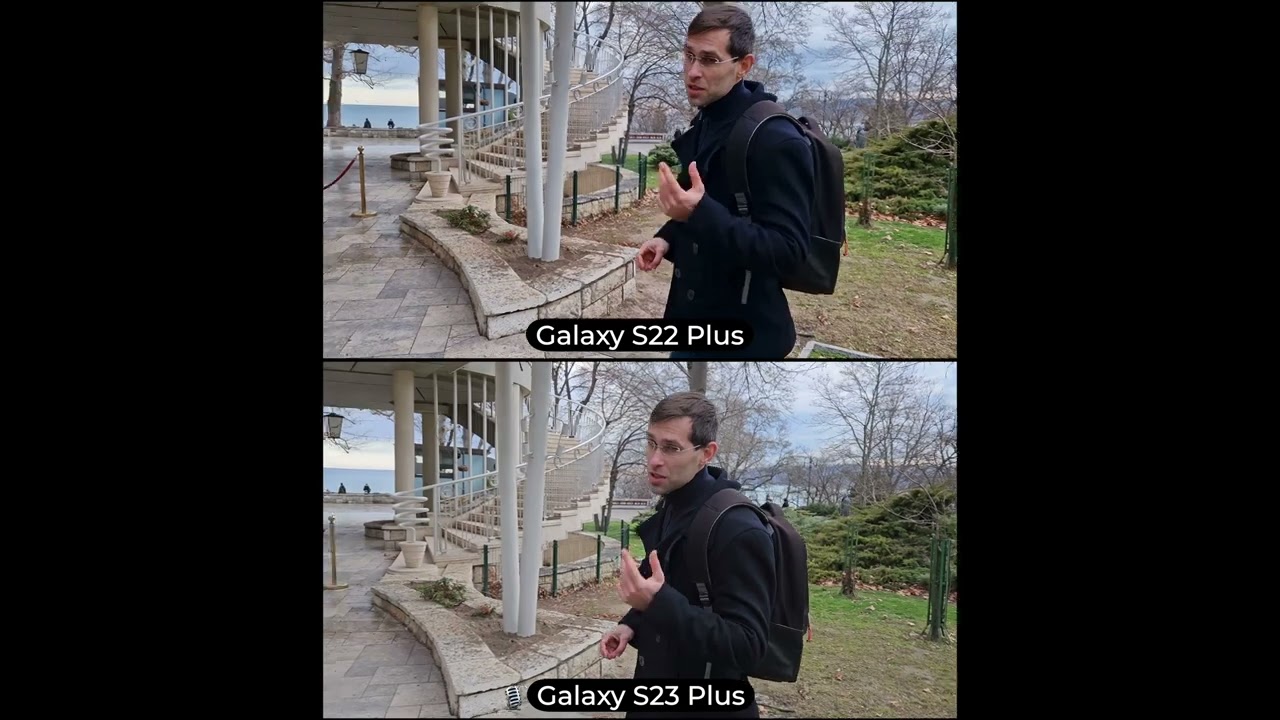 Galaxy S23

Performance & Benchmarks
Second generation of ultimate power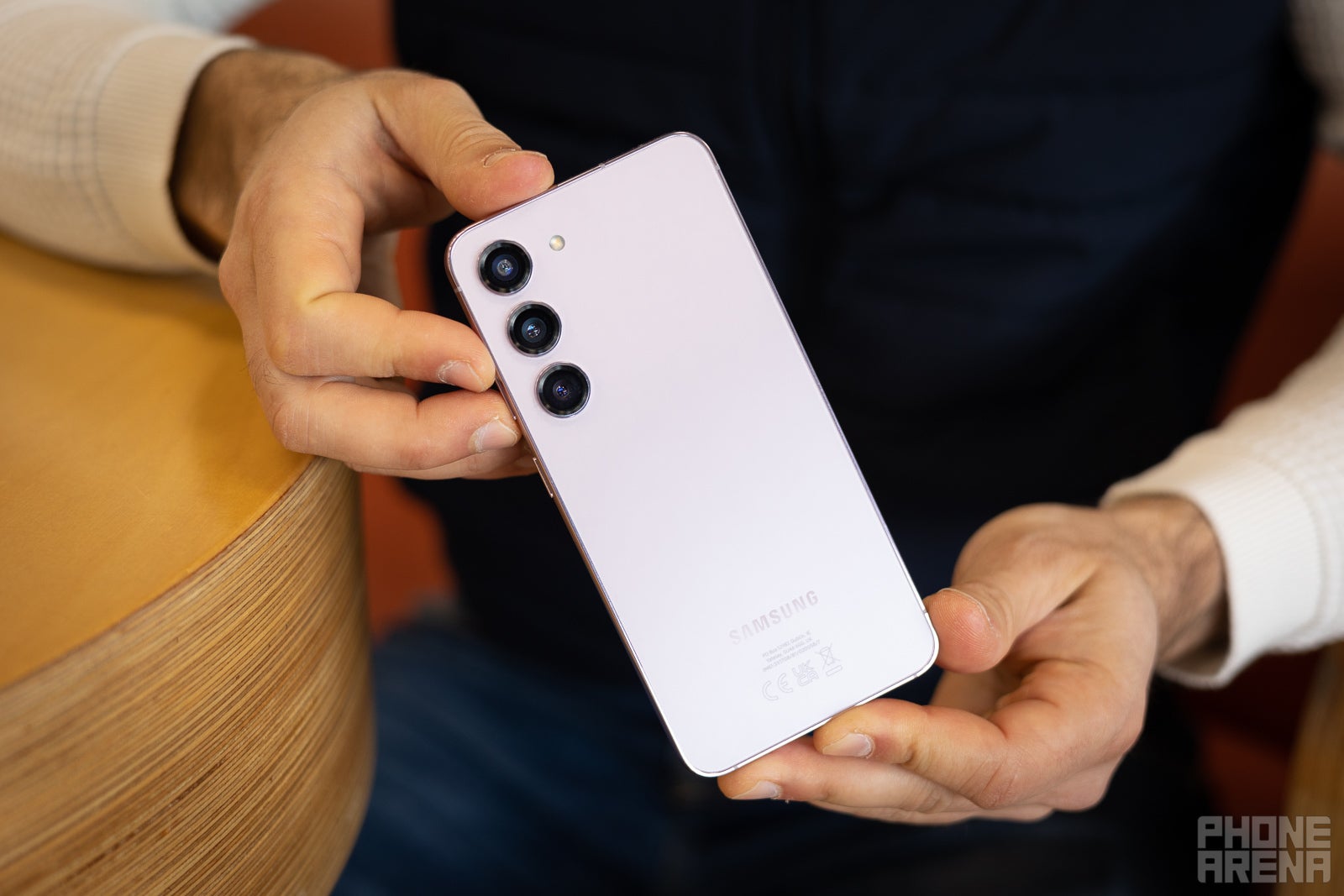 Power in a box (Picture credit - PhoneArena)
The new Snapdragon 8 Gen 2 Mobile Platform for Galaxy sounds very, very promising. We ran it through our benchmarks and it seems to be able to churn out stellar performance over longer periods — no doubt thanks to the help of the upgraded heat dissipation system of the
Galaxy S23
.
But life is not about benchmarks. And in real life, the
Galaxy S23
is a pleasant performer. No hiccups, no stutters — the phone is smooth and responsive, and all "Go, go, go". Despite the fact it's kind of tiny to be the poweruser's dream, it can definitely flex its proficiency if you choose to use the DeX suite for example (turns your phone into a desktop machine, bring your own monitor).
Galaxy S23

OS / Android version
The latest Android build out there is
Android 13
and that's what the
Galaxy S23
is launching with. But you know the deal — Samsung likes to do its own stuff, so its
Android phones
have the elaborate One UI reskin — the latest one being One UI 5.1.
Samsung's software is full on features that completely change the way you interact with Android — easy split screen shortcuts, edge panels that you can pull in from the side for multi-tasking, and complete integration with Samsung's ecosystem with SmartThings Hub. Not to mention DeX, which can turn your phone into a mobile desktop machine, as long as you have an external monitor to work on.
It is also worth noting that Samsung has severely improved its software update game. New flagships now come out with the promise of 4 major Android updates, and 5 years of security patches. That means that the
Galaxy S23
may launch with
Android 13
but will end up with Android 17 down the line.
At least that's how we interpret Samsung's words, let's break it down just to be sure:
Galaxy S23

launches with

Android 13

in early 2023
Update 1 - Android 14 in late 2023
Update 2 - Android 15 in late 2024
Update 3 - Android 16 in late 2025
Update 4 - Android 17 in late 2026

Galaxy S23

reaches end of 4-year promise in early 2027

Galaxy S23

stops getting security updates in early 2028
Galaxy S23

Battery
A small bump in capacity
OK, so as rumored, we do get a 200 mAh increase in battery capacity — up to 3,900 mAh. There are two ways this could go — the extra 200 mAh may be there to balance out the demands of a more powerful Snapdragon 8 Gen 2, no difference in the end. Or, it could work in tandem with power efficiency in the Snapdragon 8 Gen 2 and deliver better battery life.
In any case, we are optimistic that we won't be seeing a drop in endurance compared to the Galaxy S22. So, 12 hours of constant browsing or 9-10 hours of mixed usage per day.
Galaxy S23

Audio Quality and Haptics
Ever since Samsung acquired AKG it has slowly and surely improved the sound of its mobile devices. The
Galaxy S23
, as is customary now, has a stereo setup with bottom driver and amped earpiece. They usually sound decent, but it seems that Samsung has done some upgrading. The
Galaxy S23
speakers sound very nice — they can get decently loud, yet they are balanced and have a bit of thump behind them. We wouldn't mind listening to music from these while doing chores.
The haptics on the flagship Galaxy series, however, are excellent and the
Galaxy S23
clicks with very pleasing feedback.
Galaxy S23

Competitors
Obviously, the
iPhone 14
will be a pulling force that will threaten the
Galaxy S23
's success. However, it does have shortcomings — Apple will only give you a 60 Hz screen and two cameras with the base
iPhone 14
.
The
Galaxy S23
will come out swinging with a 120 Hz screen and a full trio of cameras, there to please fans of portraits and zooming.
But what about on the Android side? Well, Google's latest
Pixel 7
duo is very tempting. The base
Pixel 7
costs $600 and is an absolute bargain. And the
Pixel 7 Pro
is only slightly more expensive than the
Galaxy S23
— an extra $100 and you get a bigger screen and the premium Google Assistant experience.
But Samsung has been in the game for a while now and has built a robust ecosystem around its phones. The feature-rich One UI, DeX, SmartThings, the Galaxy Watches and Galaxy Buds, plus the Galaxy SmartTags — you've got plenty of reasons to go for a Samsung and keep it in the heart of your IoT life.
Galaxy S23

Summary and final verdict
It seems that there will be plenty of good reasons to upgrade to a
Galaxy S23
if you are coming from an older model — like an S20. If you have more recent phones, it may seem like the
Galaxy S23
doesn't bring enough heat to push for an upgrade, and that's about right. The Galaxy S21 and Galaxy S22 are still excellent phones. Which only speaks to the quality that Samsung has hit now — these flagship devices can finally hold out and feel relevant for well longer than two years. And that makes it easier to spend the $800 on them, right?
Recommended Stories