Led by iPhone X, Apple's Q4 U.S. market share rises 17% over last year
49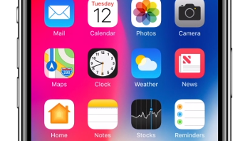 The
Apple iPhone X
made its debut during the fourth quarter of 2017. The tenth anniversary model launched during the first week of November, which helped Apple's U.S. market share rise sequentially by 10 percentage points during the last three months of the year. For the period, the iPhone saw its share of the stateside smartphone market rise to 39% from 29% during the third quarter. On a year-over-year basis, the iPhone's Q4 market share was up 5 percentage points (17%) from the 34% it achieved in Q4 2016.
Apple had a seven percentage point lead over Samsung from October through the end of last year. Sammy's 32% slice of the U.S. smartphone pie placed it well ahead of LG's 13%. All of the remaining manufacturers together owned 15% of the U.S. market. Much of Apple's strong fourth quarter can be credited to the new iPhone X, which has increased the rate at which Android users switch to iOS, and the rate of iPhone upgrades by existing users.
"In the first full quarter after the launch of its three new models, Apple grew its share relative to Android brands. f we compare change in share from the September quarter to the December quarter in this year and last year, Apple clearly improved its market position. It gained ten percentage points from the September to the December quarter both years, but as it had a better September quarter in 2017 than in 2016, this resulted in an overall stronger December quarter."-Josh Lowitz, CIRP
No matter which analytical firm ran the numbers, the data showed that the iPhone had a strong fourth quarter. For example, in the week leading up to Christmas, Apple dominated new device activations while another report showed that the top three selling smartphone models in the U.S. during November were the 2017 iPhone models (iPhone X, iPhone 8 Plus, iPhone 8).
via
9to5Mac