iPhone 8 is available for $0 per month at Sprint, but only with eligible trade in
2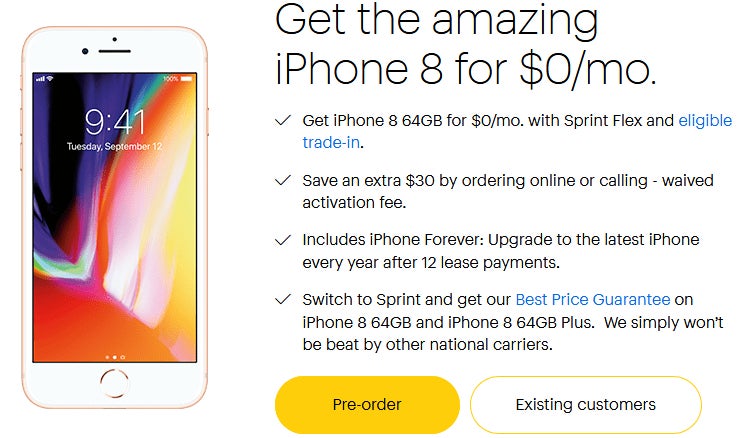 Sprint today announced that it's updating its iPhone 8 offerto include a deal for customers willing to trade in select handsets. Moreexactly, Sprint lets you get an iPhone 8 for $0 (zero bucks) per month - ifyou're trading in one of the following devices: iPhone 7, iPhone 7 Plus,Samsung Galaxy S8, Samsung Galaxy S8+, or Samsung Galaxy Note 8.
In addition to a smartphone trade in, this deal requires anew line activation, and an 18-month Sprint lease that usually costs $29.17 permonth. Also of note is that the new promotion only includes the iPhone 8 64 GB, soyou're out of luck if you want to get the iPhone 8 256 GB, or any iPhone 8 Plusmodel. On the bright side, if you've already pre-ordered an iPhone 8 64 GB fromSprint, you are eligible for the new trade in offer.
If you own a slightly older handset that you want to tradein for an iPhone 8 (like a Google Pixel, an iPhone 6, or a Samsung Galaxy S7), you may be eligible to get 50% off a Sprint Flex leasepayment.
As a reminder, Sprint will start shipping the iPhone 8 andiPhone 8 Plus on September 22, just like all other major US carriers.
While we can see customers willing to trade in an iPhone 7 for an iPhone 8, we don't think there are too many people out there who would give up their Galaxy S8, or a brand new Galaxy Note 8 for an iPhone 8 64 GB. Or are there?
source: Sprint