The best deals on an iPhone 8/Plus pre-order at Verizon, AT&T, T-Mobile, Sprint, Best Buy and Target
3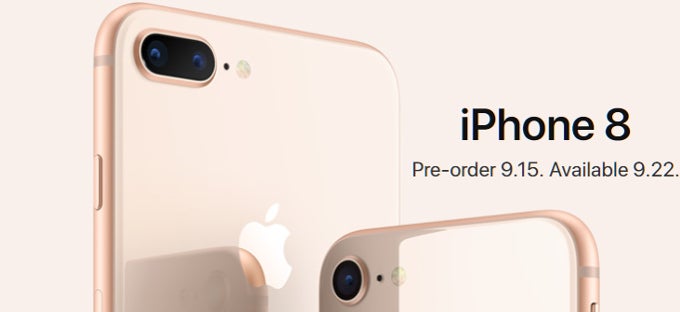 Today is
iPhone 8 preorder day
, and those who pull the trigger now will be among the first to get their hands on Apple's latest and greatest glass-y handsets with drastically faster chipsets and upgraded cameras, not to mention the wireless and wired charging speeds. T-Mobile started the promo season on iPhone upgrades with a press release yesterday, and the other carriers and retailers might be forced to respond, that is why we will be scouring the airwaves for deals on Apple's newest iPhones to help you choose.
Big Red is giving up to $300 trade-in offer for your older handset towards the purchase of the new iPhones. Not extremely generous, given that the three Benjamins go towards handsets like the
iPhone 7
, the Pixel or Galaxy S8, while an iPhone 6 will net you just $200, but upgrade convenience at America's
most congested
widest network has a price. Alternatively, you can
look at other ways
to sell your handset on eBay or Craigslist, which will fetch you much better prices, but with more hassle.



The boys in blue actually outed a BOGO offer on the new iPhone 8 and 8 Plus, believe it or not, but only for DirecTV or U-Verse customers, current and future. They can get a second iPhone for free, but you have to obtain the handsets through AT&T's leasing program and keep your service for the two-year contract on both phones.
For other AT&T subs, there is no immediate trade-in offer for the new iPhone other than the standard one which will fetch you about the same $300 for an iPhone 7 Plus swap as on Verizon, but AT&T does have the Next installment plan that lets you pay off for 30 months. The iPhone 8, for instance, will run you $23 a month this way, while the iPhone 8 Plus will be just $27. Needless to say, this requires good credit so that no money is given upfront, and you are still on the hook for activation fee and sales tax.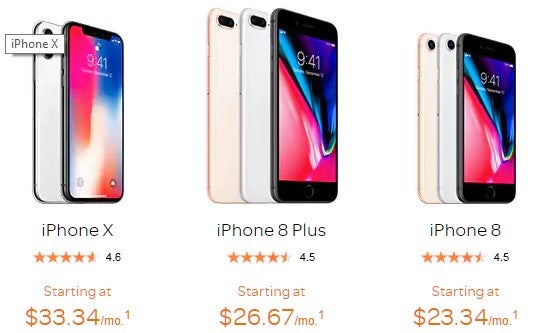 Just like with the iPhone 7, T-Mobile didn't hesitate to pull the trigger, introducing a $300 discount for the new iPhone 8, 8 Plus and X phones, as long as you trade in at least an iPhone 6 in good condition. For comparison, AT&T's trade-in offer for a 32 GB iPhone 7 is sub-$300 at the moment, while an iPhone 6 trade-in at Verizon brings $200 towards the purchase of the new iPhones.
Next up is an upgrade offer similar to its JUMP program that will make potential buyers grin with delight. T-Mobile will is introducing a fresh iPhone upgrade program, in time for the iPhone 8, 8 Plus and the X. When you hit 50% of their price on T-Mobile's installment plans, you can trade them in, and upgrade to the next iPhone for free, as the carrier will wipe the remaining balance, essentially locking you into yearly upgrades, instead of having to pay the phone for two years, or cover what's left.

Sprint announced that it's updating its iPhone 8 offer to include a deal for customers willing to trade in select handsets. More exactly, Sprint lets you get an iPhone 8 for $0 (zero bucks) per month - if you're trading in one of the following devices: iPhone 7, iPhone7 Plus, Samsung Galaxy S8, Samsung Galaxy S8+, or Samsung Galaxy Note 8.

In addition to a smartphone trade in, this deal requires a new line activation, and an 18-month Sprint lease that usually costs $29.17 per month. Also of note is that the new promotion only includes the iPhone 8 64 GB, so you're out of luck if you want to get the iPhone 8 256 GB, or any iPhone 8 Plus model. On the bright side, if you've already pre-ordered an iPhone 8 64 GB from Sprint, you are eligible for the new trade in offer. If you own a slightly older handset that you want to trade in for an iPhone 8 (like a Google Pixel, an iPhone 6, or a Samsung Galaxy S7), you may be eligible to get 50% off a Sprint Flex lease payment.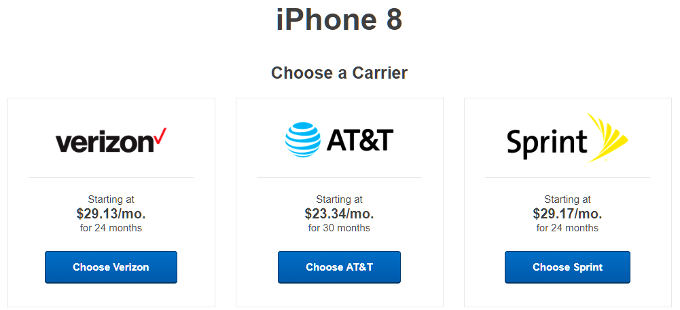 Best Buy carries the Verizon, AT&T and Sprint deals, and that's that. T-Mobile is traditionally not present in its roster, and the retailer doesn't have any special promos that go towards subsidizing your iPhone 8 or 8 Plus purchase.
Target gives REDcard holders $120 in eGiftCard credits over the 24-month installment payments period, and you can, say, trade an iPhone 6 for $200 towards the purchase of an iPhone 8 or 8 Plus. Given that T-Mobile gives you $300 for the same, and the offer is not stackable, Target's effort sits in the middle of iPhone 8 preorder deals.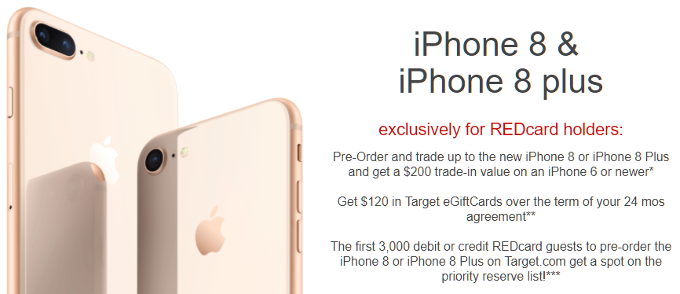 Since Walmart or Costco don't have any special deals on an iPhone 8 preorder, the best deal for now remain AT&T's BOGO offer for DirecTV and U-verse subs, as well as T-Mobile's generous trade-in and iPhone upgrade program. Any takers?