iPhone 4S arriving to C-Spire Wireless on 11.11.11
6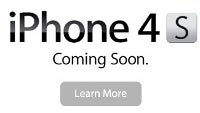 The Apple iPhone 4S has been a runaway hit with 4 million sales in the opening weekend. It's also quickly being launched to a lot of foreign markets, but what's interesting is that even smaller carriers are getting it. The most surprising network its soon to be available on? C Spire Wireless. The regional carrier, previously known under the Cellular South brand name, has less than a million subscribers, but has confirmed that it's
getting the new iPhone on November 11th
.
Just as you'd expect, the carrier is getting the same versions of the iPhone 4S as you know on AT&T, Verizon and Sprint – a black and white ones, coming with 16GB to 64 gigs of internal memory.
Prices start at $199
for the basic model with a two-year contract. C Spire is also getting the iPhone 4 8GB version which will set you back $99 if you sign a 2-year agreement.
C Spire Wireless aims to differentiate with personalized
plans
. For the iPhone, the $50 and $70 plans are a nice match and a comparatively affordable one. Even though, all of them are said to include "unlimited" data, streaming is excluded from the service. The more expensive $90 and $100 plans have truly unlimited data.
C SPIRE WIRELESS TO OFFER IPHONE 4S ON NOVEMBER 11
Pre-Registration Begins Today; iPhone Will Come With Infinite Data Plans
Ridgeland, Mississippi, – November 1, 2011 – C Spire Wireless today announced iPhone 4S will be available beginning Friday, November 11.
iPhone 4S will be available starting at $199.99 for the 16GB model, $299.99 for the 32GB model and $399.99 for the 64GB model with a new two-year contract and data plan. In addition, the iPhone 4 8GB model is available for $99.99, also with a new two-year contract and data plan. iPhone 4S and iPhone 4 will be available at C Spire Wireless retail stores, online at www.cspire.com/iPhone and through the Telesales group at 1-855-CSPIRE4. C Spire customers can pre-register for iPhone beginning today at www.cspire.com/iPhone.
iPhone 4S is the most amazing iPhone yet, packed with incredible new features including Apple's dual-core A5 chip for blazing fast performance and stunning graphics; an all new camera with advanced optics; full 1080p HD resolution video recording; and Siri, an intelligent assistant that helps you get things done just by asking. With the launch of iPhone 4S also comes the launch of iOS 5, the world's most advanced mobile operating system with over 200 new features; and iCloud, a breakthrough set of free cloud services that work with your iPhone, iPad, iPod touch, Mac or PC to automatically and wirelessly store your content in iCloud and push it to all your devices.
"As a carrier dedicated to delivering the best personalized wireless experience, we're proud to offer the amazing new iPhone 4S to our customers," said Hu Meena, president and chief executive officer for C Spire. "iPhone 4S offers an abundance of new features, and with our Choice Infinite data plans customers can enjoy all of them on our network without having to think about their next bill."
The C Spire network is built for data devices, supporting the highest percentage of customers with smartphones in the nation. With personalized options built around customers' wireless needs, C Spire offers a variety of individual, family and business voice and data plans that give users the freedom and flexibility to use their phone how and when they want. C Spire understands that when customers have to measure and limit their data, they aren't getting the optimal experience from their wireless provider. That's why the company offers Individual and Family Choice nationwide voice and data plans that offer customers the ultimate in choice and flexibility and access to infinite data.
iPhone 4S and iPhone 4 require activation on one of C Spire's individual or family voice and data plans on a two-year contract:
Plan 1
Plan 2
Plan 3
Plan 4
Monthly Fee
$50
$70
$90
$100
Minutes
500
Unlimited
1,000
Unlimited
SMS
Unlimited
Unlimited
Unlimited
Unlimited
Data (MB)
Unlimited*
Unlimited*
Unlimited
Unlimited
iPhone 4 8GB
$99.99
$99.99
$99.99
$99.99
iPhone 4S 16GB
$199.99
$199.99
$199.99
$199.99
iPhone 4S 32GB
$299.99
$299.99
$299.99
$299.99
iPhone 4S 64GB
$399.99
$399.99
$399.99
$399.99
*Plans 1 and 2 exclude streaming