New Google Fi users get free $100 credit with no strings, existing subscribers eligible for smaller gift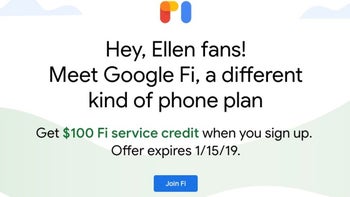 Google's 2015-released mobile virtual network operator (MVNO) didn't just
get a new name recently
, dropping the "Project" from its original branding to suggest this experiment is all grown up, but it also earned support for a host of additional devices, iPhones included.
While
sweet Google Fi deals
and
discounts are certainly nothing new
, the search giant appears to be ramping up its promotional efforts as well. Along with free service credit of between $100 and $300 for purchases of products like the Pixel 3 and 3 XL, Pixel 2 XL, Moto G6, LG V35 ThinQ, G7 ThinQ, and Android One Moto X4, new subscribers can now get an extra $100 off their bill.
The latest special offer is technically only available for viewers of the hit Ellen DeGeneres Show, although in reality, all you need to do to claim your discount is join the Google Fi program
through a dedicated "Fi loves Ellen" section
on the MVNO's official website.
You have until January 15, 2019, at 11:59 PM PT, to sign up for Fi service with your own compatible device or one sold by Google. If you opt for the former eligibility path, you need to activate your phone by January 31, while the latter variant will give you exactly 30 days after your new device is shipped as an accepted activation window.

A service credit of $100 will then be automatically applied to your Fi account, which is enough for two free months of unlimited calls and texts and 3GB of data (per month).
As far as existing subscribers are concerned, Google has a little something, something for them too, but unsurprisingly, we're talking about significantly lower savings.
As reported by Android Police
, playing a short and simple game within the Fi app or on fi.google.com will end with a $9.99 promotion code for a free or discounted Google Photos photo book.

A 20-page softcover photo book just so happens to cost $9.99 right now with free economy shipping thrown in, although each additional page will set you back $0.35. Meanwhile, hardcover photo books normally start at $19.99, fetching $0.65 per extra page after the first 20.