eBay will offer a bunch of irresistible deals if Amazon crashes during Prime Day
4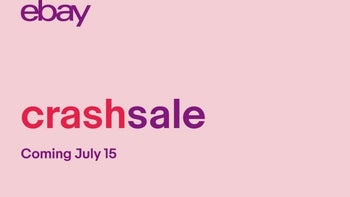 Amazon is turning its already traditional, 2015-launched
Prime Day
annual sale into a 48-hour thing for the first time this year, but bargain hunters may find it pretty difficult to keep up with the avalanche of deals coming in a few weeks from the e-commerce giant and two of its biggest rivals.
Hot on
Target's heels
, eBay has just
announced its own Prime Day challenger
, and amusingly enough, its success hinges on Amazon's ability to keep its website up and running throughout the two-day deal marathon. That's right, the aptly named eBay Crash Sale will include a special batch of "too-good-to-be-true deals" if Amazon crashes, just like it apparently did at some point during the 2018 Prime Day festivities.
It's not clear what will happen if Amazon manages to avoid a repeat of such an embarrassing situation (presumably, these killer deals would never go live), but it's safe to say eBay is counting on its rival to encounter technical difficulties on July 15 and/or 16. Either way, "doorbuster savings on top brands" including LG, Apple, Samsung, and Garmin are planned for July 15, although that's only the culmination of a series of events starting as early as July 1.
Specifically, eBay has July 4th savings in the pipeline on "summer essentials, appliances, and more", which will be offered between July 1 and 7, followed by "hot deals for hot days" taking place from July 8 to 22. The latter sale sounds pretty enticing too, with new deals launching every day and massive discounts on everything from the "hottest tech" to smart home devices and home appliances coming before and after both Amazon Prime Day and Target's Deal Days.
Of course, eBay is quick to point out its deals require no membership fees (burn!), with free shipping "always" provided for products shoppers "actually want" (double burn?).