Android Oreo update rolls out for international dual-SIM Samsung Galaxy S7 Duos
4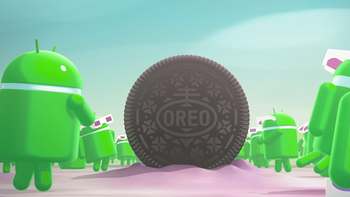 Samsung announced on Wednesday that the dual-SIM international version of the
Samsung Galaxy S7
(SM-G9300), known as
Galaxy S7
Duos, is receiving an update to Android 8.0 Oreo. The build number is G9300ZCU2CRF5 and it is being disseminated OTA. When you receive notification that the update has hit your phone, you need to do two things before proceeding; one, make sure that you are connected to a Wi-Fi signal. Two, charge your battery up to 100%. Samsung also suggests backing up important data, and recommends that apps like Samsung Pay, Samsung Internet, Memo, and Email, be updated individually before you install the new build of Android on your phone.
We should point out that the update includes the Samsung Experience 9.0 UI. After the update, Samsung notes that users will be able to delete several apps if they wish to do so. Those apps include Samsung Connect,
Samsung Gear
, Samsung Music, Game Launcher, Baidu.
Samsung also has an extensive changelist as well as several notes related to this update. The complete list follows:
The user settings of easy mode may be removed on new OS, please reset them after OS upgrade.
Weather widget version update, and it will cause the weather widget disappear from idle. So please drag the weather widget to idle after you update your OS.
Wechat Store now supports Fingerprint payment.
Baidu search wigdet is replaced by Baidu App.
Samsung MILK Music is updated as Samsung Music.
Add app icon for Samsung connect and Game Launcher.
The OneNote app will not be supported from this version.
Myknox will not be supproted from this version, but you can download and install Secure Foler by Settings → Lock screen and security → Secure Folder
Enhanced messaging is not supported ( Received file cannot be downloaded after upgrade)
The lock screen theme maybe removed on new OS,please reset it after upgrade.
Here's what's new.
Quick Panel
Manage notifications for each app with notification categories (supported apps only).
Icons will be shown at the bottom of the notification panel for notifications that aren't currently visible.
Home Screen
Touch and hold an app to display shortcuts to common or recommended tasks within the app (supported apps only).
Notification badges on app icons and in the notification panel are synced. Clear a notification in one location, and it will show as cleared in the other location.
Samsung Keyboard
The Samsung keyboard toolbar gives quick access to useful functions.
GIF keyboard lets you send GIFs using Samsung keyboard.
More high-contrast keyboards are available.
System Performance
Background services are limited to improve performance and battery life.
Lock Screen and Always On Display
New clock styles for the Lock screen and Always On Display.
Adjust the transparency of notifications to get the look you want.
Samsung account
Control your account settings and profile information for multiple apps.
Tap your profile picture on the main Settings page to access your profile information and account settings.
Samsung Cloud
View and manage photos in Samsung Cloud.
Select specific items to delete or restore from your backups.
See how big each backup is and how many items it contains.
Smart View
Let your phone's screen go dark when mirroring to another screen.
Samsung Dual Messenger
Install a second copy of a messaging app so you can use two accounts at the same time. For apps that verify accounts using phone numbers, you'll need a different phone number for each account.
Touch and hold a messaging app on the Home or Apps screen to install the second account or go to Settings → Advanced features → Dual Messenger.
Other improvements
In Video, auto-repeat and 2x speed are added.
Samsung Pay has improved speed and security.
Clock offers Landscape mode and timer sound options.
Tap the digital clock widget to go to Clock directly.
The international version of the Samsung Galaxy S7 features the Exynos 8890 chipset instead of the Snapdragon 820 that powers the U.S. model. The device was released in March 2016 with Android 6.0 Marshmallow installed, making this the second major OS update for the device.