The best T-Mobile phones to buy in late 2022 (Hand-picked guide)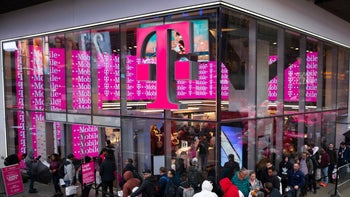 After acquiring Sprint, T-Mobile became a force to be reckoned with, gaining millions of subscribers and those all-important mid-band 5G frequencies. Team Magenta continues to be a stimulative competitor to both Verizon and AT&T, especially when it comes to 5G deployment.

But most users aren't really concerned with 5G or the merger. You probably aren't either. If you're here, that means you're looking to get a brand new phone. You've come to the right place, as we have assembled a lineup that will satisfy any need.
But if you're coming from another carrier, than you also need to select a plan. We can help with that as well, just head over to our
Best T-Mobile plans
article!
Best T-Mobile phones:


Choosing a phone can be an overwhelming task, especially if you're not following the industry and have a hard time distinguishing between models and brands. Fear not, with just a few questions you'll narrow it down to maybe a couple of devices.
First off, do you want an Apple iPhone or an Android phone? Most people usually stick to one operating system but jumps from one to the other are also not uncommon, plus now there are enticing phones on each side. If you've spent money on iOS apps, music or Apple subscription services then obviously iPhones is what you should be looking at. If not, then Android phones offer a wider variety in brands and designs, so there's more to choose from.
Second, of course, is the budget. With monthly payments all phones seem affordable. But keep in mind that with a two-year contract, a relatively small difference in the monthly payment can mean hundreds of dollars in the long run. These days, even budget phones are very capable and can do most things flagships can, even if it's not at quite the same level.
Third: consider your needs. Are you constantly taking pictures? Or would you rather have a phone that lasts days between charges? We all use our phones in a specific way, so think about what you're doing most with your current phone and what are some features you want that it doesn't have.
With that foundation in place, time to see which of these T-Mobile phones is the perfect match for you.
Apple iPhone 14 Pro Max / iPhone 14 Pro
Apple's best phones of 2022
Apple's top product for 2022 is the iPhone 14 Pro Max. It takes the design of the iPhone 13 Pro Max and flips it with its centerpiece, the Dynamic Island punch-hole cutout element, which serves as a hub for a host of software aspects. You can, for example, immediately access any ongoing notifications you may have, such as countdowns, timers, and navigation prompts, as well as examine miniature album art for the media that is presently playing.
Another interesting feature of the
iPhone 14 Pro Max
is its all-new 48MP main camera, which is driven by Photonic Engine technology. It delivers super-detailed images with exceptional sharpness, fantastic dynamics, and stunning colors that really pop in 48MP camera mode. In comparison to the
iPhone 13 Pro Max
, the image quality in low light has improved. Video recording has also been upgraded, with the addition of a new Cinematic Video mode at 4K@30fps.
In our iPhone 14 Pro Max review, we also mentioned the iPhone 14 Pro Max's better FaceTime camera, new satellite connectivity for emergency circumstances, and, ultimately, a quicker and more efficient A16 Bionic CPU that powers the device. It also has a fantastic battery life, though ultimately not as good as the iPhone 13 Pro Max.
The
iPhone 14 Pro
is basically the same device as the iPhone 14 Pro Max, but with a smaller footprint, display, and battery. The majority of the features are identical, however.
Probably the best foldable phone you can buy
Samsung reaches peak Android status with the foldable
Galaxy Z Fold 4
, which improves many aspects of the previous Galaxy Z Fold 3. The latest state-of-the-art foldable comes with multiple software accommodations to improve the user experience, like a new PC-like dock and improved multi-tasking with useful apps and app shortcuts on the bottom dock. Other software goodies that let you benefit from the larger screen real estate are also on board.
On the hardware front, we have a 6.2-inch outer display and big 7.6-inch Dynamic AMOLED display when unfolded. Specs also include Qualcomm Snapdragon 8+ Gen 1 processor, 4400mAh battery and Triple camera setup on the back with 50MP main sensor.
Although the Galaxy Z Fold 4 supports the S Pen stylus, you will have to buy one yourself as no such accessory comes out of the box. If you want a device with a built-in stylus, you will have to go with the Samsung Galaxy S22 Ultra, an equally premium handset with a way more capable camera setup at the back.
Google Pixel 7 Pro
The best stock Android phone
The most recent Google flagship phone, the Pixel 7 Pro, was recently released to take on the mantle from the Pixel 6 Pro, and hopefully show us that Google can indeed come up with a issue-free device. The new phone has few but important key differences when compared with the previous generation. For one, it has a slightly refreshed design with a more flashy presentation, a longer telephoto lens that now maxes at 5X rather than 4X, a new chip, the Tensor G2, and a trove of software goodies that aim to make users' digital lives easier with the help of machine learning and artificial intelligence.
Those are powered by the Tensor G2 chip, the second generation of Google's custom chip that was developed in concert with Samsung. Instead of trying to deliver outstanding performance, the Tensor is a more humble take on a modern phone chipset, with a focus on ML and AI.
The camera, aside from delivering a longer telephoto zoom, now also has a Super Res Zoom up to 30X, as well as Macro Focus feature that lets you get close and personal with your subject. Of course, everything is running super smoothly on the 120Hz display with stock Android interface.


Samsung Galaxy S22 Ultra
The most complete Android flagship
It feels as if we've just mentioned the
Samsung Galaxy S22 Ultra
in positive light during the previous paragraph, and voila, we're here!
Indeed, this Android super-star seemingly has it all: a 4-camera system with a long-range 10X periscope zoom lens (which allows mind-boggling zoom levels of up to 100X), a built-in S Pen that's available right out of the bat, the latest and most powerful Android processor as well as an Exynos variant, the newest generation Samsung AMOLED display with super-smooth refresh rate, exceptional color rendition, and great maximum brightness...
Basically, everything it takes for a blockbuster flagship. Oh, and then add a few bonus features on top like a record-breaking screen brightness, more granular refresh rate and a few fancy colors. Of course, all of that comes at a premium $1,200 price, but not much higher than last year's model, despite the many new features.
Indeed, if we really have to recommend a phone in late 2022, it's really, really, really hard to justify getting anything else than this here Galaxy S22 Ultra, with the important message that the upcoming Galaxy S23 Ultra is just around the bend with lots of saucy improvements coming. Still, it could be worth getting a Galaxy S22 Ultra, especially if you encounter it at a killer price this
Black Friday
.
Apple iPhone 14 / 14 Plus
The core iPhone experience
Despite the fact that not much has changed in comparison with the iPhone 13 (we dare you to find more than five visual differences between the iPhone 13 and iPhone 14), there are some new features this year. For example, for the first time ever, Apple comes up with a large but affordable iPhone, the iPhone 14 Plus, which is build upon the iPhone 14 with larger screen and better battery life.
Aside from that, iPhone 14 and iPhone 14 Plus can rely on the same Apple A15 chipset, the same old 12MP dual-camera system that's however now powered by the Photonic Engine algorithm for image processing, which uses a combination of software, hardware, and machine-learning know-how to make sure your photos always turn good, especially in low-light. Both phones still use the same ol' notched 60Hz OLED displays, which isn't as flashy as the 120Hz super-bright screens on the iPhone 14 Pro and iPhone 14 Pro Max, but are still excellent displays nonetheless.
While the iPhone 14 and iPhone 14 Plus truly lack a semblance of head-turning features, like an Always On display or a Dynamic Island punch-hole, they are no-frills phones that will get the job done and let you dive into the core iOS experience.
Can I get a free phone from T-Mobile?
Just like Verizon and AT&T, T-Mobile usually lets you get a free phone, sort of. While nothing is truly free, an eligible device and a new line with T-Mobile could get you a pretty serious discount of a certain phone, and even write off nearly 100% of the price tag. This could essentially get you a "free" phone, but you will definitely have to pay for that one, one way or another.
Are phones on T-Mobile sold unlocked?
Unless stated otherwise, you should presume that all phones sold on T-Mobile are locked. The criteria for unlocking a device stand as follows: you need to have had your postpaid phone active on the T-Mobile cellular network for at least 40 days, paid in full, or without any pending balance payments to T-Mobile. Of course, T-Mobile can request a proof of purchase when requesting the device unlock.
If your device is prepaid, then you need to have had it active on the T-Mobile network for at least 365 days. If you wish to unlock it sooner, you can do that 14 days after a purchase in the earliest, with at least $100 in refills for each line on the account during that period. What's more, you can't unlock more than two phones per line every 12 months, so have that in mind as well.