Best Buy is offering bigger than ever discounts on Samsung's Galaxy S10e for two carriers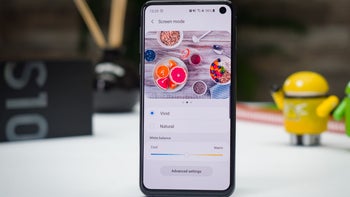 The
Galaxy S10e
is without a doubt one of the best Snapdragon 855-powered smartphones you can buy on a relatively tight budget nowadays, especially if you look in the right places at the right time for the heftiest discounts.
Normally priced at $750 and up, the flat-screened 5.8-incher has been on sale numerous times of late at
top-rated eBay vendors
, as well as major authorized retailers like
Best Buy
and
B&H Photo Video
. Best Buy strikes again today with killer new deals for two of the big four US carriers, requiring you to agree to a monthly installment plan and add a new line of service to an existing account or open an altogether new one to save quite a bit of money.
We're talking price cuts of $450 with AT&T activations and $510 as far as Sprint subscribers are concerned, which will leave you spending $300 on the former network and a measly $240 on the latter after wrapping up your lengthy agreement. Whichever of the two mobile network operators you'll choose, you're looking at coughing up just 10 bucks a month (after bill credits) for 30 and 24 months respectively.
While obviously inferior to the "regular"
Galaxy S10
and the plus-sized
S10+
, the
Samsung Galaxy S10e
comes with a more than generous 128 gigs of internal storage space, as well as an equally impressive 6 gigs of memory, a decent 3,100mAh battery, a versatile 12 + 16MP dual rear-facing camera system, blazing fast and accurate side-mounted fingerprint scanner, and the aforementioned 5.8-inch non-edge Dynamic AMOLED panel sporting a resolution of 2280 x 1080 pixels. Not bad for only 240 or 300 bucks, eh?