Last chance on Prime Day Headphone deals: The savings saga continues
We may earn a commission if you make a purchase from the links on this page.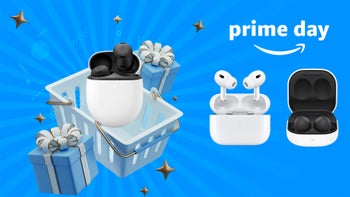 Amazon Prime Day in October is over, but you still have some time left to pull the trigger on many incredible
Prime Day phone deals
,
Prime Day smartwatch deals
and
Prime Day speaker deals
.
With excellent earbuds- from Apple's AirPods Pro to Sennheiser's Momentums 3 and the Samsung
Galaxy Buds 2 Pro
- and great discounts on over-ear headphones, you can find a gem of a deal here. These two days Sony over-the-ear headphones received some amazing up to $150 discounts! Beats by Dre did not stay behind as we saw some amazing deals on Beats Studio Pro as well. AirPods Max also saw a significant discount.
And now, you can still grab some sweet deals and get yourself brand-new headphones to enjoy those favorite tunes! Whether you are an audio fan or shopping for a gift- these are the best-sounding earphones, at the best prices we've seen in a while! Check out the top deals we have gathered for you all in one place!
Top 3 headphone deals on Amazon Prime Day in October 2023
Jump to:
Prime day Earbuds deals
During Amazon Prime Day in October, we observed discounts ranging from 10% to 57% on many earbuds. The Bose QuietComfort Earbuds II, for instance, had a sweet $100 discount- a remarkable deal. If you were in the market for new earbuds, seeking quality sound on a budget, that was the time to shop.
Indeed, JBL, known for its excellent sound quality at an affordable price, also had discounts of up to $50, a significant deal for earbuds typically priced under $100.
Sony enthusiasts had reason to rejoice, as Amazon Prime Day in October brought generous discounts on Sony earbuds. But that wasn't all! Beats Studio Buds were available with a 40% discount during the event.
Now, The Samsung Galaxy Buds 2 are almost half price and of course, the AirPods couldn't be forgotten- AirPods (2nd Generation) has a 31% discount. You can still get a great deal, so check out the offers!
Prime Day Bluetooth headphone deals
Earbuds are great, but they aren't for everyone. Fortunately for you, you can score savings in the 30-40% range on brand-new awesome-sounding headphones during Amazon Prime Day in October.
One of the most exciting promotions we came across was for Sony's
WH-1000XM4
, which saw a tempting 29% price cut. Amazon also offered its successor, the
WH-1000XM5
, for $72 less than its regular price. Bose's QuietComfort 45 and Headphones 700 also received exciting discounts of $100 and $80, respectively.
Previously, you could also score significant savings on more budget-friendly headphones. The JBL Tune 660NC, for instance, was available for $50 less than usual. If you aimed for more expensive options, fear not, as Sony, Apple, and Beats by Dre also had some great deals. The Sony WH-XB910N, for example, saw an amazing $132 discount!
If you are an Apple fan, you should know that the AirPods Max also saw a pretty nice discount. The Beats Studio Pro was also part of the mix, being almost half the price than usual. But hey, you still have a chance to get some great devices at almost half their price. Marshall Major IV On-Ear Bluetooth Headphones now have a 21% discount and the Beats Solo 3 is $100 off!
Make sure to check our other Prime Day buying guides too:
Recommended Stories