Sony WH-1000XM5 review: Silence the universe… in style
2
We may earn a commission if you make a purchase from the links on this page.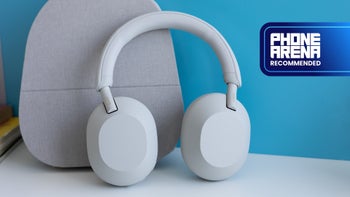 For their $400 price tag, the new Sony XM5s are some of the best noise-canceling headphones you can get right now. They feature balanced, flat sound, great for both critical listening and even music mixing.
But aside from a minimalist redesign and better microphones over their predecessor – the XM4s, are the XM5s bringing enough to warrant an even higher price tag? Not really. Let's get into the details…
Design and fit
The XM5s have been redesigned quite a bit, to look slimmer, more minimalist and modern than their predecessor.
They feel surprisingly light the first time you pick them up, and they are, at about 250 grams. The headband is now pretty thin, the cups look sharper. While they do swivel left and right generously, they've lost the ability to fold into a smaller package, and the carrying case you get with these headphones reflects that.
Yes, you do get a great-feeling carrying case, with a hard front and back, so I wouldn't worry about carrying the XM5s around safely, even if they can't fold up like the XM4s.
But back to how these headphones feel. The cups are made out of this hard-to-define plastic material. It's smooth, yet also feels a tiny bit grainy on a molecular level. Hard to explain, but bottom line – they feel nice, albeit maybe not $400 nice.
The "soft leather" ear cushions are indeed super soft and comfy, and when you press them down they have this memory foam thing going on. I dare say they're much nicer than what you get on other premium headphones like the AirPods Max, but also less breathable. If you sweat a lot, I'd assume these can get gross and slippery quick.
Let's get to the fit. As I said, the XM5s feel very light, and with that thin headband I would consider them the least-noticeable over-ear headphones I've had the pleasure of using. They can stay on my head for hours with no problem, no irritation.
So in terms of comfort – we've got a winner here. Of course, in terms of looks – those are subjective, but if you like minimalism, you'll probably love these.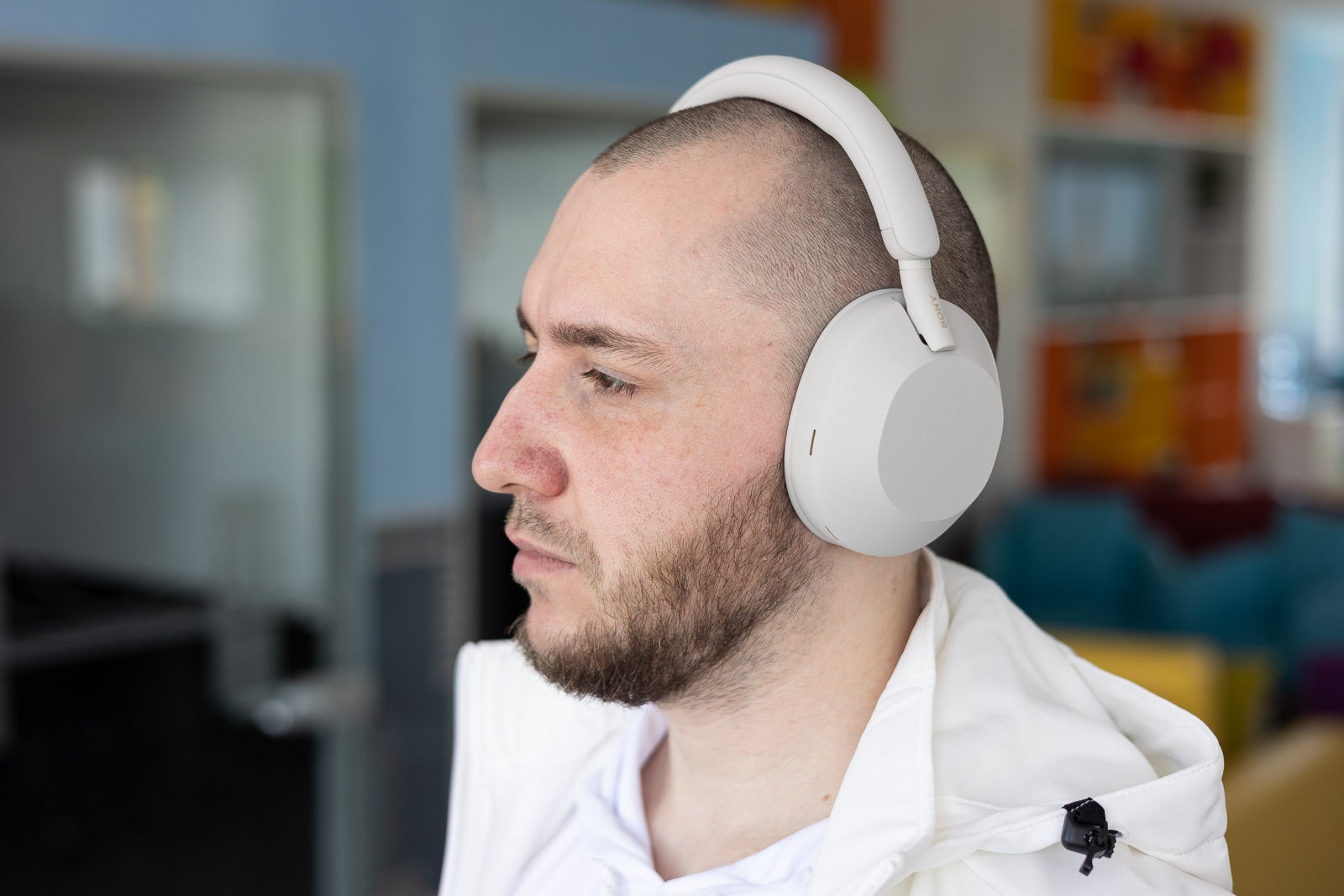 Controls
We have a clicky power key that doubles as a pairing button, and next to it – another physical key for switching between noise canceling and ambient sound. Now, that's super useful to have, because it means you don't need to download an app just to switch between the two. Sony would like you to download their app anyway, but you don't have to. We'll get to the app later.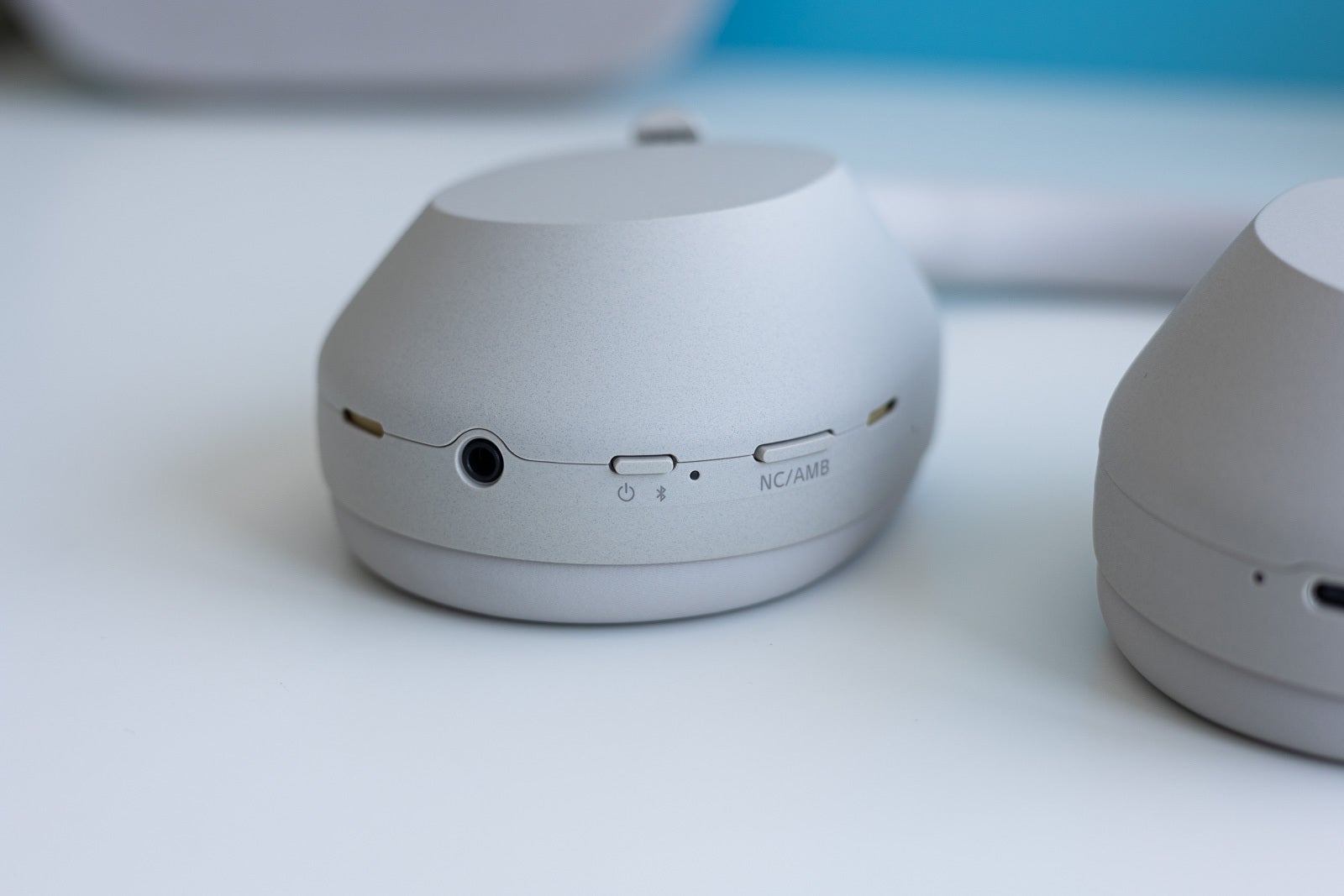 As you can probably guess, we also have touch controls for the other stuff – play, pause, next song, previous song, volume up and down… And normally I dislike touch controls, as they're finicky and their accuracy is usually very hit and miss… But…
The Sony WH-1000XM5 have the best touch controls so far! Thanks to the cups' touch areas being flat now, you can easily feel for them. One swipe forward – you skip a song, swipe back – you go back to a song, double tap – play and pause, swipe up – volume goes up, swipe down – volume goes down. You can also long-press for a voice assistant (Siri, Alexa, etc), and more…
It all works surprisingly well, accurately. I can't complain about having touch controls when they're this good, and props to Sony for nailing them here.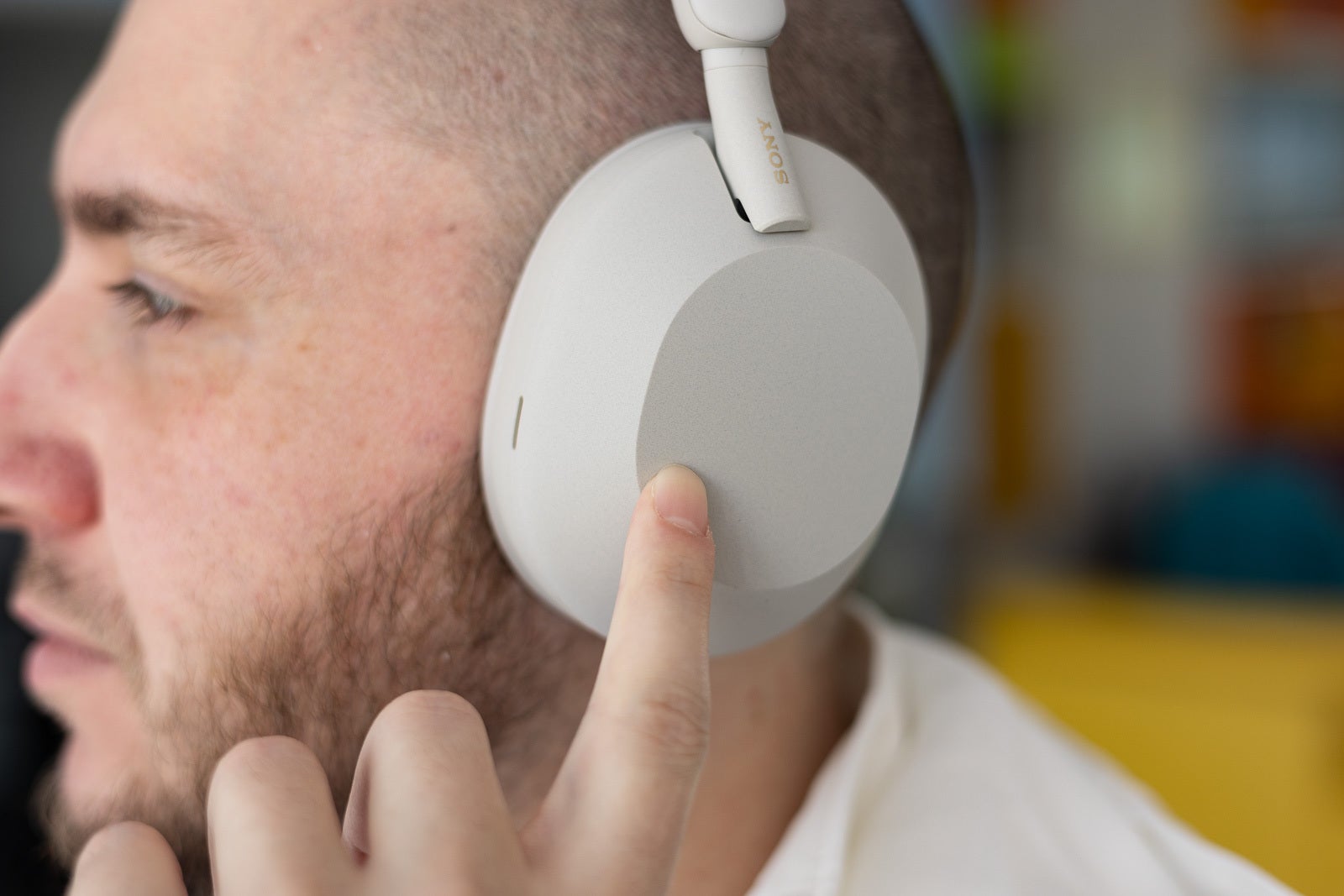 By the way, you can also press the power button while wearing them to have a pleasant voice tell you their remaining battery life. That's handy too!
And while we're on the subject of controls, I might as well also mention that these headphones can, and will pause your music when you take them off, even if you're connected to a PC. That's always nice to have, and that little sensor inside the cup that checks if you're wearing them is no longer visible like it was on the XM4s. A little detail worth noticing.
Sound quality and noise-canceling
Here's where things get interesting. By default I'd call these headphones reasonably flat, great for critical listening or even music production. If you love strong bass, these don't give it to you out of the box. Instead, you get a clean and accurate bass that doesn't overpower the rest of your music whatsoever.
You want to change how these sound? The app lets you do that, but for now, we'll focus on how the XM5s sound by default…
The sound from these is very clean and traditional, there's no crazy Spatial Audio-like stereo separation, or any other bells and whistles that might change your music from what the artist intended.
You definitely needn't worry about distortion or a muddy mix with these headphones. If a song is mixed clearly – you'll hear it clearly. If it's mixed to be wider or bassier than usual – only then you'll hear it sounding wider or bassier than normal.
And again – flat sound like that is a desirable thing, especially for critical listening and music production.
I've personally been spoiled by bass-heavy headphones, though, because I gravitate towards those, and at first, the XM5s didn't sound as punchy as I'd like. But I quickly learned to appreciate their clearer, flatter sound, and might even end up mixing a few songs with them.
On to the noise-canceling, which Sony rightfully calls "industry leading." You put these headphones on and the world goes silent. I'm writing on a laptop with very clicky keys right now, and can't even hear those, let alone the city noise around me, or anything else.
The noise canceling is indeed very impressive here, and according to Sony, automatically calibrates itself based on your surroundings, and based on locations that you frequently visit.
How the NC (noise canceling) here manages to block low-end noise like a rumbling car engine is particularly impressive, you'll just feel it, not hear it. High-frequency sounds like the seagulls flying around my balcony are completely silent too. Neat!
Of course, ambient sound is one press away for when you need to hear what's happening around you. That mode uses the headphones' mics to let sound in, and it does it well. So long as your music isn't super loud and ambient sound is on, you'll likely hear if someone approaches you and starts talking to you just fine.
App and features
When you first pair the XM5s with your phone, you'll likely get a prompt to download a Sony app. Even if you don't, or you ignore it, you may want to give it a try – it's the aptly-named "Sony | Headphones Connect" app, available on both iOS and Android.
The app comes with plenty of interesting features. Let's start with Speak-to-Chat.
Speak-to-Chat
Once this feature is enabled, your music will automatically pause if you start talking, which is very useful at, say, gyms, cafes and the likes, where you're likely to be approached at any time. Just as conveniently, the music will continue playing again once you've stopped talking for a few seconds.
Equalizer
Here's where you'll be heading to if you want stronger bass – the equalizer inside the app can be set to "bass boost" with just a few swipes. You still won't be getting the kind of nasty, donkey kick-like bass you may have experienced with some of the bassier headphones out there, but it does get punchier.
If you instead want a sparklier sound with an emphasis on highs, for, say, listening to a podcast, jazz or something classical, you can set the equalizer to "bright" too. Always nice to have those options.
360 Reality Audio
This is a pretty interesting feature… in theory. For you to enable it, the app has to analyze your ear shape first. So as odd as it sounds, it makes sense that you have to take photos of your ears, which are then processed by Sony. You're told this via a not-so-smooth popup message (see the app screenshots above)...
Thankfully it all happens within the app, and you get guided by voice prompts to remove your headphones, turn your head left and right, after which the app has two nice photos of your ears for processing.
30 seconds later, your ears have been analyzed. You're not done, though, as 360 Reality Audio is only available via a handful of subscription-based music streaming apps, like Deezer and Tidal. Even if you have a subscription to one of those, you'll then need to find songs mastered specifically for 360 Reality Audio.
What do you get after all this song and dance? Barely anything, unfortunately. I subscribed to Tidal, sat and listened to the 360 Reality Audio songs available, side-by-side with their "normal" counterparts as they sound on Spotify and YouTube, and could not hear the selling point of this feature at all.
Perhaps music sounds a bit wider, with a bit more defined instruments, but this is nowhere near as impressive as Apple's Spatial Audio, and definitely shouldn't be a reason why you're buying these headphones. I've mastered songs professionally and even I can barely hear a difference, I can't imagine most people would.
Even back in late 2020 when we did our
Sony WH-1000XM4 review
we were somewhat unimpressed with this feature, and sadly, two years later nothing's changed. So let's move on…
Other app features
Dual device support is back, which lets you pair these headphones to, say, your phone and tablet, and whichever one you're playing music on, the XM5s will automatically switch to that. Though just like it was on the XM4s, the XM5s can't use the LDAC codec while this functionality is on, only when it's disabled.
The app also comes with a nice introductory tutorial on how to wear these headphones, how to use the touch controls, what the "Auto NC Optimizer" we mentioned earlier is, and so on. Great for first-time wireless headphone users.
You can also make an account with Sony in this app, in order to enable activity tracking. Why you need that for headphones is beyond me, but perhaps there are people who'll find it fun.
Kind of like how the Apple Watch gives you badges when you outperform yourself during a workout, here you can get some for listening to various music genres. You'll also be getting "Safe Listening" notifications if your music is too loud and could damage your hearing over time.
App issues
If you thought I wasn't going to complain about something in this review, oh how wrong you were. I'm not fond of a headphone app asking me for a ton of permissions and pestering me to create an account with Sony, read terms and conditions, and perhaps most importantly – wait for slow updates.
As I was writing this review the app started updating (didn't bother asking me if now was a good time), and that update was very, very slow to finish. Well beyond 40 minutes, which for a headphones companion app, I'd say is 38 minutes too long.
Weird wording too. Instead of something like "Updating your headphones" it said "Transferring the latest headphones software…"
And it kept waking up my iPhone too, sending a "Transferring…" notification every few seconds, for whatever reason. After a few minutes of this going on my iPhone straight up suggested to mute these. Very odd experience, Sony.
But hey, if you don't need its bells and whistles, you can easily go without downloading this app at all…
Call quality
The XM5s have four microphones on each cup, eight in total. Four of those eight mics are handling your voice calls, aiming to keep them noise-free and clear. And whether it's wind or something else in your way, they do in fact deliver good results.
We weren't super happy with how voice calls were on the XM4s, but Sony's done some solid improvements here on the XM5s. I can concur that my voice was being nicely isolated from any background noise, so whether you're Skype calling family or in a Zoom call with your colleagues, in terms of voice clarity, you should be more than good.
Specs and codec info
For the tech savvy and interested, here's what you need to know:
The XM5s have 30mm neodymium drivers, and their frequency response is from 4 Hz to 40,000 Hz when wired. Their wireless (Bluetooth) frequency response is lower – 20Hz - 20,000Hz (44.1kHz sampling) 20Hz - 40,000Hz (LDAC 96kHz sampling 990kbps).
They use Bluetooth 5.2, with a wireless range of about 10 meters. Supported audio formats: SBC, AAC, LDAC. Supported profiles: A2DP, AVRCP, HFP, HSP.
They have DSEE Extreme support, which is a feature that aims to upscale compressed music, raising its sampling frequency and bit rate.
They also have atmospheric pressure optimization, handy when you're on a plane. Their included cable is about 1.2 meters long, gold-plated. A carrying case and a USB charging cable are also included in the box.
Battery life, ports
The Sony XM5s are rated for up to 30 hours of battery life on a single charge, so you're good to go on a weekend trip without taking a charger. You can probably get them to last longer than that if you use them less, I know I did.
And just a 3-minute fast charge can get you up to 3 whole hours of battery, if changing via a Power Delivery USB-C charger, Sony claims. With a traditional USB charger, 10 minutes of charging gets you about 5 hours of playback.
So yeah, these are good for someone who's always on the move, as by the time you shave or take a shower the XM5s will be ready to go for another few days.
I decided it's worth talking about ports, because aside from a USB Type-C port for charging, these headphones also have a much-welcome 3.5mm jack.

That's your futureproofing right there. Batteries can degrade and even fail over time, but having the option to use the XM5s wired means they can probably be useful to you 10 or even 20 years from now, who knows?