Best Amazon Prime Day Bluetooth speaker deals: Recap and Early Access deals
We may earn a commission if you make a purchase from the links on this page.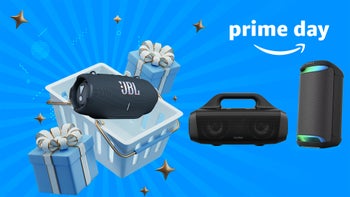 If you're in the market for a new Bluetooth speaker, or several, Amazon Prime Day 2023 would surely be a great time to get 'em! Prime Day 2022 came and went, and if you were quick enough, you may have stocked up on Bluetooth speakers just in time for the summer!
If not, well - here we've prepared a recap for you, of the best Amazon Prime Day Bluetooth speaker deals we saw, so you know what to expect for Prime Day 2023!
Early Access Prime Day Bluetooth Speakers deals
Well, what do you know! If you missed the original Amazon Prime Day, it seems that you now have a second chance - Amazon is running a second Early Access October event, and actually there are some cool deals running as we type this on Bluetooth speakers. Check out all the Early Access Prime Day deals below, we've cherrypicked some of the best Bluetooth speakers deals below from brands like Sony, Philips, Bose, JBL and Bang & Olufsen.
Amazon Prime Day deals on JBL Bluetooth speakers
Last Prime Day we saw a solid $80 discount for the boombox-like JBL Xtreme 3 at Best Buy. The small and portable JBL Clip 4 was $30 off, which was also a solid discount, considering it's already a highly affordable little speaker. Best of all, the JBL Clip 4 in particular was discounted at both Best Buy and Amazon, which is something we can expect to repeat on Prime Day 2023.
Amazon Prime Day deals on Amazon Echo Bluetooth speakers
Amazon's own Echo smart speakers are often part of Prime Day deals, as is to be expected. So if you're in the market to set-up your home with smart speakers, Prime Day would be the right time to buy, just bookmark this page - we'll have the top Amazon Echo speaker deals right here.
For reference, last year the 4th-gen Amazon Echo Dot, which is not only a smart Bluetooth speaker but a clock too, was $27 off.
Amazon Prime Day deals on Sony Bluetooth speakers
Sony might not have the best naming scheme for its Bluetooth speakers, but they're good ones nonetheless, and this is a trusted brand. Last year the Sony SRS-XB33 Extra Bass, along with the XB43 and XB23 all got discounted on Amazon Prime Day, so we can expect those, along with Sony's many other speakers to be discounted for the 2023 event too. Bookmark this page and stay tuned if you're on the hunt for great Sony Bluetooth speaker deals this Prime Day!
Amazon Prime Day deals on Bose Bluetooth speakers
Speaking of trusted brands known for their quality audio equipment, we can't overlook the upcoming Bose Bluetooth speaker deals next Amazon Prime Day.
Last time around the Bose SoundLink Resolve (Series II) was $45 off for all color variants! So again - we can expect similar or better deals on Bose Bluetooth speakers during Prime Day 2023.
Amazon Prime Day deals on UE Bluetooth speakers
Ultimate Ears, known as UE for short, is another brand that is well-known in the Bluetooth speaker enthusiast community, and another brand whose
Bluetooth speakers
will be discounted for Prime Day 2023.
The Ultimate Ears Boom 3 Portable, the Ultimate Ears WonderBoom 2 and the Ultimate Ears MegaBoom 3 are all likely to see a price cut, so stay tuned. Lots of discounts on "boom" coming next year!
Amazon Prime Day deals on Sonos Bluetooth speakers
Sonos is considered a pretty high-end brand when it comes to audio equipment, so if you're in the market for a good Sonos Bluetooth speaker but don't want to spend too much money, stay tuned for the best Amazon Prime Day Sonos Bluetooth speaker deals right here!
Once the shopping event launches, we can expect models like the Sonos One (both gen-1 and gen-2), the Sonos Play and Sonos Move to all see some good Prime Day discount. And those aren't just any basic Bluetooth speakers, Sonos equips them with smart assistant support - so, they're smart speakers!
Which Bluetooth speaker should I choose on Amazon Prime Day 2023?
In the case of Bluetooth speakers, it all depends on your planned use case and even more so - your budget. All of the brands above offer quality speakers, but some also have "mini" models, which you may prefer if you're looking for maximum portability (at the cost of smaller sound).
If you want an old-school boombox experience, both the Anker Soundcore and the JBL Boombox can turn you into the life of the party, on the go! And of course, if you want smart speaker for your home, meaning speakers with Amazon Alexa or Google Assistant at your disposal, you should turn to the Amazon Echo or Sonos Bluetooth speakers.