Take that Samsung, Apple may be working on a huge foldable iPad
11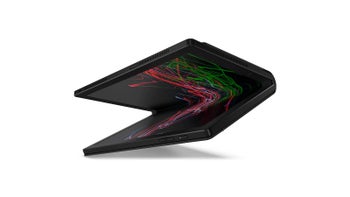 Last year, around 8 million foldable smartphones were sold, and this year, the shipments are projected to rise by more than 100 percent. After Samsung, Huawei, Motorola, and almost every other major Android manufacturer, Google is reportedly
set to join the fold
later this year. Apple was said to toying with the idea, but its plan was all over the place. Industry insiders now appear to suggest that the company is considering a
different kind of foldable device
.
Apple's first foldable device could be a laptop
In the latest edition of his weekly
Power On
newsletter,
Bloomberg's
Mark Gurman adds weight to a previous rumor from Display Supply Chain Consultants' Ross Young, who is nearly always spot on with his predictions.
The Cupertino giant seems to be working on a foldable iPad/MacBook hybrid with a 20-inch screen. It appears that the device will look like the Lenovo ThinkPad X1 Fold, meaning you would be able to use it like a clamshell laptop. That implies that instead of a physical keyboard and trackpad, you will have to make do with a virtual keyboard.
Gurman says Apple has been working on the foldable iPad/Macbook for the past couple of years. Young had previously said that Apple was planning to release the device around 2026, which is also when the company is expected to reveal its rumored
augmented reality glasses
and the Apple car.
Whether that means the foldable iPhone is off the table is anybody's guess. From the get-go, Apple's plan has not been very clear. Early last year, there were rumors that Apple would release a Microsoft Surface Duo-like device with two separate displays and a hinge but that was disputed by notable Apple analyst Ming-Chi Kuo in July 2021 when he claimed that Apple might release a Samsung Galaxy Z Fold competitor in 2023.
Around the same time, a
Bloomberg
report said that Apple had developed prototype bendable displays and was gravitating towards a Galaxy Z Flip-like flip phone. A Korean publication added to the confusion by claiming that Apple was still
undecided on the launch
. This was supplemented by DSCC's Young who said the foldable iPhone was unlikely to arrive before 2025.
Apple is closely monitoring the foldable market
Per one leaker, Apple is still not sure about the
future of foldable phones
and is also concerned about their shortcomings. Generally speaking, foldable phones are bulky, fragile, and more prone to damage. The software is not polished and despite their high price tag, foldable phones usually don't offer top-notch camera systems.
That said, the tech has been getting better, and by the time Apple's first foldable product goes into production, the tech will have had even more time to improve. Apple currently makes the
most popular tablets
, and a foldable iPad would help it increase its dominance further, which is crucial given that Samsung has tremendously upped its game with the
14.6-inches Tab S8 Ultra
, and Oppo's recently unveiled
first Android tablet
also looks impressive.
Word about a
foldable iPad
first started circulating in 2019 when an analyst said that Apple was working on a foldable slate that would be powered by an A-series chip and this was later corroborated by a
2020 rumor
.