Anker deals: super-portable power banks for cheap! (today only)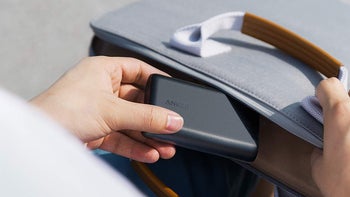 Phone batteries have admittedly been getting better over the past couple of years. We already have a few phones out there that can honestly reach a 2-day battery life with medium usage thanks to the fact that their makers managed to cram 4,000 mAh or even 5,000 mAh cells in their trunks. Still, having a portable battery is always a good idea in this day and age where everyone has portable devices like laptops, tablets, smartphones, smartwatches, fitness trackers, and
wireless headphones
.
Anker is one of the most popular electronics accessory maker, especially known for its quality powerbanks. And now, the company is running a limited time deal on a number of its products over at Amazon.
Here, we have highlighter for you two of our favorites:
The PowerCore+ Mini (45% off) is a super-portable cyllinder, as big as a couple of packs of gum. Yet, it manages to carry 3,350 mAh of battery capacity and uses Anker's proprietary PowerIQ technology to recognize what it's plugged into and deliver a safe amount of charge at all times.
The PowerCore 10000 (40% off) has a capacity of — you guessed it — 10,000 mAh. Viewed from the top, it has a footprint slightly larger than the iPhone 8, but is — naturally — much thicker. Still, it's one of the most portable powerbanks with a massive capacity out there and certainly a must-have if you are on the road and find yourself low on charge often.