Prime members can bundle Amazon Music Unlimited and a third-gen Echo Dot at an incredible price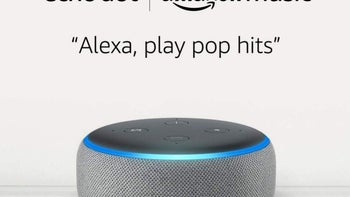 In order to boost its subscriber numbers to eventually challenge
Apple Music
and
Spotify
, Amazon has offered many
great Music Unlimited deals
in
recent months
, one of which is an incredible
permanent discount for Prime Student members
.
While there's still no way for regular Amazon Prime subscribers to claim a similar promotion, either temporarily or permanently, you can currently get in on a different deal allowing you to save a lot of money by purchasing a popular
third-generation Echo Dot
along with one month of unlimited, ad-free access to the company's premium music streaming service.
Instead of paying a grand total of around 58 bucks for this very interesting bundle, you're merely looking at coughing up $8.98 at the time of this writing. There's obviously a very good chance this amazing special offer will expire soon, so if you're an existing Prime member that has yet to try out Amazon Music Unlimited, now's clearly the right time to take the platform for a spin.
There don't seem to be other strings attached or special requirements you need to consider before pulling the trigger, although it's definitely important to keep in mind that your Music Unlimited subscription will be automatically renewed at its typical monthly price of $7.99 (for Prime members) after your first 30 days are up. If you don't want that, you can naturally cancel your service and keep the essentially complimentary Echo Dot (3rd Gen).
The diminutive Alexa-powered smart speaker has a new direct rival in Google's $49
Nest Mini
, which probably explains this compelling bundle deal. Of course, with Black Friday and Cyber Monday around the corner, standalone discounts are to be expected as well, but there's absolutely no way the latest Echo Dot model will ever go down from a $50 MSRP to $8.98 by itself.