Amazon's kid-friendly Fire tablets are on sale for a limited time for up to 40 percent off
We may earn a commission if you make a purchase from the links on this page.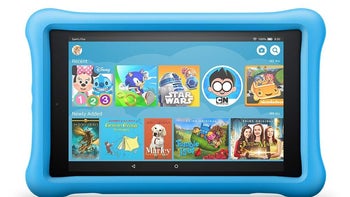 One of the best things about Amazon's popular line of Android-based Fire tablets is undoubtedly how it can bring families closer together with affordable options for both adults and children. A "regular" Fire HD 8 and a kid-friendly edition of the same slate, for instance, would normally set you back a grand total of $210 or so. That's already a phenomenally low price for not one, but two tablets with HD content playing support, quad-core processing power, and stellar battery life.
Even better, Amazon frequently runs sales on these inexpensive bad boys, following up
a promotion from a few weeks ago
with 48-hour-only special offers for the full trio of children-centric Fire slates. The discounts available right now are even bigger than last month, reaching as high as 40 percent off the list price of a Fire 7 Kids Edition and 31 percent as far as the "all-new" Fire HD 8 Kids Edition is concerned.
Of course, because the Fire HD 10 Kids Edition is typically the costliest model of this bunch, its 25 percent markdown actually translates into a higher $50 value than the 40 bucks shaved off the retail prices of its little brothers. Across the board, you're looking at awesome deals like nothing we've seen in several months.
All three "kid-proof" gadgets are sold alongside colorful protective cases in a wide range of playful paint jobs of their own, also including a two-year worry-free guarantee that essentially means Amazon will replace your tablet without asking any questions in the unfortunate event of accidental damage. If they "break it", the e-commerce giant will give you a brand-new unit free of charge.
Considering all that, as well as a complimentary 1-year Amazon FreeTime Unlimited subscription that also comes with these three, you may not be very curious about their specs and features. Suffice to say they're not bad either, including 32 gigs of internal storage space for the Fire HD 8 and Fire HD 10, as well as up to 10 hours of battery life between charges.