If you need a cheap fast charger for your iPhone 11 or Android, Amazon has you covered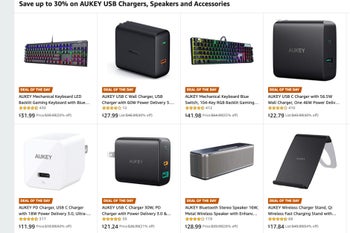 There's no better time than the day after a new iPhone launch to sell a bunch of popular chargers at incredibly low prices, and lo and behold, that's precisely what Aukey is doing over on Amazon for 24 hours only. The China-based manufacturer of power, audio, auto, home, and computing accessories must have taken note of Apple's disappointing omission of a fast charger from the
iPhone 11
retail box, offering massive discounts on a range of big and small power bricks supporting up to 60-watt speeds.
The snappiest wall charger on sale today is naturally the costliest too, but believe it or not, a 40 percent markdown equating to a cool $19 off makes this bad boy currently cheaper than Apple's first-party
18W USB-C power adapter
. Aukey's 60W beast is not as hefty as you'd expect either, tipping the scales at 122 grams and obviously supporting everything from iPhones to modern Android handsets, tablets, and laptops with a single USB Type-C port (cable not included).
If you want to juice up two devices at once, you can choose from 56.5W, 30W, and 18W wall chargers available at discounts of between 21 and 48 percent saving you up to 21 bucks. Just keep in mind that only the primary port supports USB-C technology, while the secondary slot will take care of your older, more conventional USB-A gear at reduced speeds.
Meanwhile, if you favor portability over versatility and power, there's a 27W charger marked down by 30 percent with a foldable plug in tow and a weight of 66 grams, whereas an 18-watt brick available in black and white colors for 40 percent less than usual tips the scales at a measly 42 grams.
That's not all Aukey is selling at a virtually unbeatable price on Amazon today, with a
wireless charging
stand supporting up to 10W output also up for grabs at an incredible 64 percent discount, a pair of wireless
earbuds
with deep bass going for 18 bucks less than usual, and a 16W and 20W Bluetooth wireless speaker both reduced by 28 percent compared to their MSRPs.