Zynga declares Mafia Wars to Android this December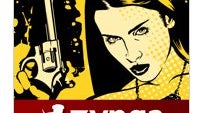 Game developer Zynga has announced that it will release an Android version of its popular Mafia Wars game in December, according to Zynga's senior VP and ex-Yahoo David Ko. The creator of addictive FarmVille and Mafia Wars, Zynga, is known mostly for its Facebook presence with some
45 million users
spending an average
1 hour a day
playing its games. But that doesn't seem enough and the company is quickly growing in an effort to woo mobile gamers. First it was the
iPhone apps
, then some
rumors
about a Windows Phone 7 app, and now the next milestone is set to be Android.
Does that have anything to do with rumors about Zynga embracing a 100 to 200 million investment from Google? Ko was reluctant to give a final answer:
"We are a very partnership centric company. Stay tuned for more to come."
The company is also going to target a wider market with localized versions of its games. And the outreach is not limited just to Facebook and smartphone users as even
feature phones
could get Zynga's apps in the future.
source:
mocoNews