ZTE 2011 smartphone shipments have exceeded expectations, to double in 2012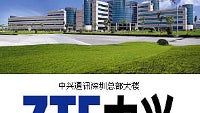 ZTE zipped way past its own plan about shipping
12 million smartphones in 2011
, but the actual figure is not yet revealed. The Chinese phone maker shipped 51.8 million handsets in 2010, but a bigger chunk of them were cheaper feature phones, while now the company has switched focus to the smartphone segment, where there are better profit margins.
"The United States and China will be key engines driving our smartphone sales,"
Lv Qianhao, head of handset strategy, told Reuters in an interview.
ZTE is currently focused on Android smartphones, but it's already released the Windows Phone-powered ZTE Tania in some markets, and it's about to unveil more Windows Phone devices later this year.
The company is competing with Huawei in its home Chinese market and on the global scene Nokia, Samsung, LG and Apple are its main rivals.
Recommended Stories