You can now pre-register for the Westworld mobile game and get some freebies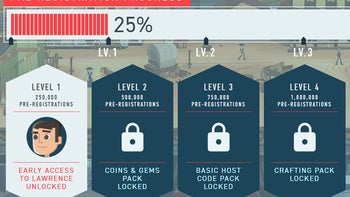 The first news that
HBO's impressive sci-fi series Westworld
is going to have its own mobile game emerged back in January, and we're now just one month away from its release. Publisher Warner Bros. announced Android and iOS users can now pre-register for the game and get special rewards, including early access tot he Lawrence Host Code.
Apparently, Lawrence should be "
the ultimate wingman for any adventure
." But that's not all you get, as the famous publisher has put up an interesting pre-registrations system that will unlock additional rewards as more players join the cause.
At the moment, no more than 250,000 people have pre-registered for Westworld, but once that milestone is achieved another reward will be unlocked: coins and gems pack. The third tier will rewards players with a basic host code pack, while the last tier unlocks a crafting pack for those who pre-register.
Developed by Behaviour Interactive,
Westworld
lets players take on the role of a rookie working for Delos, the company that controls the virtual world in the game and other parks. You will have to keep guests of the Delos Park Training Simulation happy at all times.
According to Warner Bros., the game should be released on both the Android an iOS platforms in April, but an exact release date hasn't been confirmed yet.