HBO's stellar Westworld TV series is getting a mobile game
2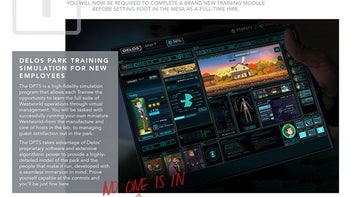 The highly-acclaimed Westworld TV series has already been renewed for a second season at HBO, but by the time the new season premiers a mobile game might be released. Warner Bros. recently confirmed that a mobile game based on the Westworld TV series is now in the works at Dead by Deadlight developer Behaviour Interactive.
The game developer collaborates with the TV series' Kilter Films to make the Westworld mobile game as close to the show as possible. For the time being, the tile is "being tested in limited release," so it may take some time until mobile users get to play it.
The only teaser that confirms the game is in the works shows a miniaturized Westworld called "
Delos Park Training Simulation
" where players will probably be able to manage their robots.
HBO confirmed the second season of Westworld will be aired in Spring 2018, so the mobile game might be released in celebration of the TV series' return.