Xiaomi starts MIUI 10 development, will focus on AI features
4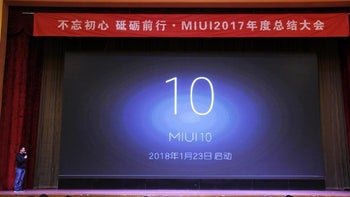 Chinese phone maker Xiaomi has officially announced that it has kicked off the development of MIUI 10, its custom software skin based on Android. The manufacturer broke the news at the annual MIUI assembly meeting in China that was held on January 23rd.
At the event, Hong Feng, co-founder, VP of Xiaomi and leader of its MIUI division, said that the company will focus on bringing AI and machine learning features with the next major version of the software. For comparison, the current MIUI 9 has been built around providing stability, smoothness, and better battery backup. The ambitious new goal that Xiaomi has set for itself will hopefully help it bridge the gap with other manufacturers like Apple, Google, and Huawei.
In an earlier interview, Feng also said that Xiaomi will concentrate on expanding its global presence in the coming months. It is estimated that MIUI has over 280 million active users, 20% (56 million) of which reside outside of China.