Xiaomi Mi 5 scores 73,075 on AnTuTu?
22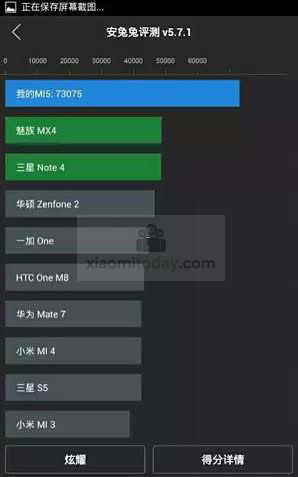 Xiaomi Mi5 scores over 73,000 on AnTuTu
The
Xiaomi Mi 5
is expected to be the first handset to feature the Snapdragon 820 chipset inside. But there is some talk that instead of waiting for the chip to start shipping in December, Xiaomi will go with the deca-core CPU found on the Helio X20 chipset produced by MediaTek. And it is believed to be the MediaTek chip that helped the phone run a benchmark score of 73,075 on AnTuTu.
Back in April, the speculation was that
the phone would be 5.2-inches, include 4GB of RAM and be powered by the Snapdragon 810 chipset
. But by June, Xiaomi had reportedly changed its tune. Thanks to talk about the Snapdragon 810 SoC overheating, it was now
the Snapdragon 820 chipset that was expected to power the Xiaomi Mi 5 and Xiaomi Mi 5 Plus
. But with Qualcomm not expected to ship the new chip until December,
Xiaomi has seemingly delayed its new flagship model.
The phone is now expected to be released in March.
Has the upstart manufacturer lost its patience? Is it worried that its current flagship phone is over 12 months old and is powered by a now dated Snapdragon 801 chipset? If so, it might not be such a stretch to think that Xiaomi would turn to the MediaTek Helio X20 SoC, especially if it can produce such high benchmark scores. The Helio X20 was said to
have produced AnTuTu scores in the 70,000 area
as far back as four months ago.
MediaTek is expected to start producing the Helio X20 chips by the end of the year. The big question is which chip maker, MediaTek or Qualcomm, can satisfy demand from Xiaomi first. Is there a chance that Xiaomi can salvage the upcoming holiday shopping season?
Thanks for the tip!
source:
XiaomiToday