Windows Phone web Marketplace rolls out in 22 more countries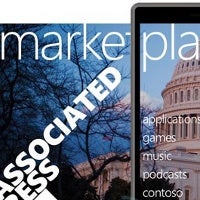 The web version of the Windows Phone Marketplace is becoming the only place except for your phone where you can discover and shop for apps. Microsoft announced earlier its killing app purchases in Zune after looking at usage patterns showing that the overwhelming majority of people look for applications on the web. And now the
web Marketplace is starting to roll out to an additional 22 countries
.
Here's the list of new states that can now use the full WP Marketplace:
Bulgaria, Costa Rica, Croatia, Estonia, Iceland, Latvia, Lithuania, Romania, Slovakia, Slovenia, Turkey, Ukraine, Venezuela, UAE, Bahrain, Iraq, Saudi Arabia, Qatar, Kazakhstan, Israel, Thailand, and Vietnam.
Microsoft deployed the web Marketplace in September last year, ending a lengthy year of users having to rely on third-party websites to check out WP apps on the web. Now, there are over 80,000 applications in Microsoft's catalog, covering most of the basic app needs of users.
Also, in the very near future, Microsoft will allow only Windows Phone Mango devices to purchase applications, so if you haven't yet updated, now is definitely a good time.