Windows Phone app Next DC Bus tracks bus arrivals in real time in DC, Virginia and Maryland
3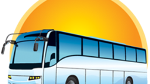 Fan of the public transit system in DC, Virginia or Maryland? If so, you are going to want to install
Next DC Bus
on your Windows Phone powered handset. Why? Because the app figures out where you are and lists all the nearby bus stops. It is the first app to list all of the alerts and advisories related to WMATA, so you'll know which buses are behind schedule and are delayed before anyone and can adjust accordingly. Next DC Bus also gives you all the stops for buses on the WMATA platform over the next 100 minutes.
Once you select which bus stop you need to get to, the app will show you directions from your current location to that particular stop. The complete route of any bus can be mapped from the current day or for the future. The app will also plot the real time location of a bus that you're on, and will auto-refresh every 60 seconds automatically.
Next DC Bus is not only free, it also has no advertising. If you often ride the bus in D.C.,Virginia and Maryland, this app should help you get to your destination in a timely fashion.
source:
NextDCBus
via
WMPoweruser