Windows Phone 7 Marketplace adds search by keywords
1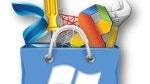 Windows Phone 7
is a new start for Microsoft and a rather good one, but that does not mean it is without its issues. Searching for titles in the Marketplace or in Zune has been one of them – the search only looked through the titles of apps and songs and not even keywords, let alone the description. With the app count growing at a steady pace and now at
more than 4,000
this was becoming all the more alarming. Microsoft however was quick to fix the issue and now, when searching for an app or a song, both keywords and descriptions are included in the search.
Hopefully this will make searching for apps more accurate on the Marketplace. Currently, when searching in the Marketplace, there is no way to specify that it is exactly an application that you are looking for, and results for songs appear as well. The Marketplace even got a separate application called AppFinder, so you can now get an app that will let you search for apps exclusively.
Try out the new search and let us know if things work out better for you after the update.
source:
WMPowerUser