Windows Mobile 7 in testing phase?
This article contains unofficial information.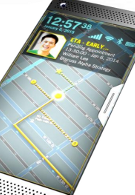 With all of the on again-off again talk about the HTC HD2 upgrading to Windows Mobile 7, just where does Microsoft stand with the OS? A recent press release by the Redmond based firm was really an Help Wanted ad in disguise.With Microsoft seeking a Software Design Engineer for the Windows Mobile 7 International/Content test team, it would appear that the software is ready to be tested more widely. "We are rolling out a number of new Test technologies, tools, andprocesses aimed at the improvement of the UI and Localization Qualityof the next Windows Mobile releases," notes the press release. Once testing becomes more widespread, we are bound to start getting some leaked pictures and videos of the newest build of the Windows Mobile OS. Think you got the right stuff to join the test team for Windows Mobile 7? Check out the sourcelink for the release.
source:
Microsoft
via
WMPoweruser