Win prizes in the OnePlus 6 Countdown Madness game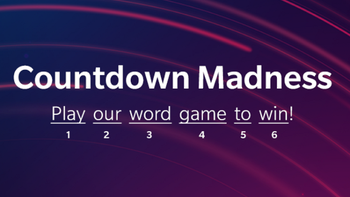 Are you a wordsmith? Well then, you can show off your wit and clever writing skills in the
OnePlus 6
Countdown Madness game. It's quite easy to play.
The OnePlus 6 is going to be unveiled on May 16th
, so today being the 11th would be T-5 days before the introduction. If you decide to play the game, today you would write a comment on the OnePlus Countdown Madness forum that totals five words. For example, "The Heat should trade Whiteside." Links and images do NOT count as words, so keep that in mind. All five word comments posted today (May 11th) will be eligible for prizes.
Tomorrow, to enter, you need to write a four word post on the same forum. "I need new phone" would be acceptable. Sunday, T-3 days to the unveiling of the OnePlus 6, a three word post would be an entry. On the actual day of the introduction, any post will be eligible to win a prize. You can enter as many times as you'd like in any legitimate language.
OnePlus will post the winners' names on May 21st. The higher the total word count generated by all entries, the bigger the prizes. While we haven't found a prize list, we would assume (which is dangerous to do, we know) that someone might win a brand spanking new
OnePlus 6
.
To enter the OnePlus 6 Countdown Contest, click on the sourcelink below.
source:
OnePlus