Win a brown leather LG G4 from the manufacturer (U.K. Only!)
8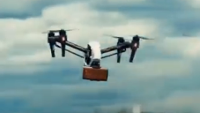 This contest is for those PhoneArena readers who complain about all of the contests that are offered to U.S. residents only. LG's U.K. division is running a contest with the winner receiving a brown leather
LG G4
. Those entering the contest have to be residents of the U.K. age 18 or older. And all you have to do is click on the sourcelink to enter.
There, you will be asked to watch a short YouTube video (which we have embedded below) and click on the name of the bridge that is shown in the clip. You are given three options, so you probably should pay attention to the video, which runs only for 143 seconds.
The
video was taken April 8th in Sydney
, and shows the brown-leather version of the phone attached to a drone. We get to see some lovely aerial shots taken with the handset's rear-facing 16MP camera. With an aperture of f/1.8, the LG G4 should deliver quality photos even under low-light conditions. The video also shows off some of the other features that are part of the phone, such as the Color Spectrum Sensor which "
measures original colors before shooting
." The improved QHD display brings brighter and crisper images than seen on the QHD display belonging to the
LG G3
. The screen has a 20% wider color range allowing for
"rich and authentic colors
." And a manual mode lets you take control of the camera like a professional.
We will leave you with a hint for the contest. Just keep in mind the city where the video was shot and you'll have your answer. The contest ends Sunday, June 7th just before midnight in the U.K. The winner will be selected the very next day. Good luck!
Thanks for the tip!
source:
LG
(U.K.)