White Nokia Lumia 900 now available in AT&T stores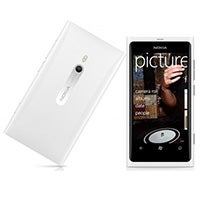 If you've been holding out on buying the Nokia Lumia 900 until its latest color addition is available, wait no longer! The white Nokia Lumia 900 has been spotted in AT&T stores today.
Mobility Digest posted two pictures of the Windows Phone handset with a white paint job today. Originally it was anticipated that this version would be released on April 22nd, but it looks like Lumia 900s with white paint jobs will be hitting the streets 2 days early.
It is unclear if this just a show of generosity from AT&T and Nokia or if they figured it would be a good was to supplement sales considering the cyan variant is listed as "sold out" on AT&T's website. Either way, there is nothing different under the hood of this handset compared to a Lumia 900 in a traditional color. It isn't available online yet, so you may have to call your local brick and mortar to get your hands on one of these.
Thanks to our readers for sending this in!
source:
Mobility Digest