When it comes to Windows Mobile, Sony Ericsson is keeping the Faith
0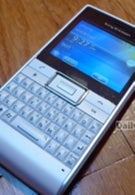 The DailyiPhoneBlog was able to obtain a leaked photo and some info from a tipster. The phone in question? Sony Ericsson's Faith. The Faith is another Windows Mobile device for the joint venture, running the 6.
5.3
build of the OS. The QVGA touchscreen display measures
2.4
inches and the phone will support multi-tasking. A physical QWERTY keyboard is included as is a microSD slot for upgrading memory. A 3.2MP camera adorns the handset and a stylus slides out for your use. The model currently has 3G connectivity for Europe, but if you're in North America and like what you see, perhaps keeping the faith will result in an "a" version similar to the wayward Xperia X2a expected to launch in the U.S. soon.
With all of the excitement that Sony Ericsson has managed to generate for the Android wearing Xperia
X10
, you might ask yourself why would the joint venture waste more time with Windows Mobile, especially in the face of the countless delays for the X2. It could be that Sony Ericsson wants to stay in the running for Windows Mobile 7 when that OS is released and is simply just trying to curry favor with the gang at Redmond by pushing out phones like the Faith. Oh, did we tell you that the latter is part of Sony Ericssons eco-friendly GreenHeart line?
source:
DailyiPhoneBlog
via
Engadget