WhatsApp to get new swipe to reply gesture on Android
8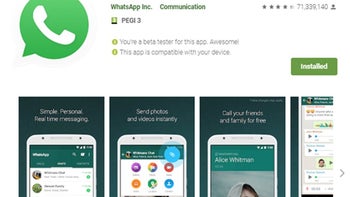 WhatsApp devs plan to bring a new feature to Android users, one that's been available to iOS users for quite a while. If you're running the beta version of
WhatsApp
, you may already be able to swipe to reply to a message, a gesture that's been recently added on Android.
The new feature should pop up in
WhatsApp beta
version 2.18.300, so if you have an older version, you'll have to update to find this specific gesture on your Android phone. As the title suggests, using the gesture is quite simple: swipe or flick any message to the right to reply to it.
If you want to try out the new gesture before it's released to everyone, you'll have to join the official WhatsApp beta program in the Google Play Store beta and hope that you'll get the newest version.
Unfortunately, we can't say for sure when exactly the new swipe to reply gesture will be made available to
WhatsApp users
on Android, so stay tuned for more on this one.