Sticker reactions are coming to WhatsApp for Android soon
7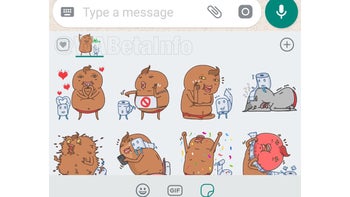 WhatsApp is working to bring new features to its
Android app
, but before they are released in the Google Play Store, some users can test them via the beta channel. Sticker reactions is one of the most important features that WhatsApp devs plan to release in the not so distant future.
Work on this specific feature started a few beta versions ago, but the devs have decided to disable it in the latest beta build. However, there's a high chance that future beta builds will have it enabled since it needs testing before release.
In any case, here is how it works for the time being. From the Stickers View, you will be able to select a Sticker by tapping the new Love icon. Ideally, each sticker has one or more reactions that you can select, but some may come with none. Apparently, there will be four reaction categories available at first: Lol, Love, Sad and Wow.
Sticker Reactions will be downloaded separately if
WhatsAp
p finds any available for the sticker that you want to use. Although there are only four types of reactions available for the moment, more may be added by the time the feature goes live in the Google Play Store.