What's up dock? Desktop and car dock both available now for the Motorola Moto X
3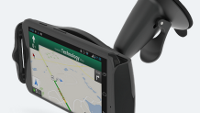 Just so you can be prepared before receiving your new
Motorola Moto X
, you can now purchase both a desktop dock and a car dock for the phone. For those who might inquire why you would make such a purchase before you've even received the device, think about how you purchased a crib for your first born before he or she was "launched".
The
Power Dock
for the desktop allows you to keep a case up to 2mm thick on your Moto X even while it is docked. There is a micro USB plug to help recharge your phone while it is relaxing, and the cradle on the dock will hold up the handset to provide you with a
comfortable viewing angle
. The Power Dock is $39.95 and can be ordered from Motorola.
Also available for the same price is the
Navigation Dock
for the Motorola Moto X, made for just about any car. With a window and a dash mount (using a suction cup), plugging the phone into this dock automatically turns on the
phone's car mode
. This allows for hands-free operation of the device and lets you use voice control. Interesting how Motorola calls the Google Play Store by its ancient Android Market moniker on the web site for the Navigation Dock. And this comes from a company that is a wholly owned Google subsidiary. Could there be a change coming to the name of the market, or will Motorola be looking for a new copywriter?
According to Motorola, the Car Dock works with all but the bulkiest cases. Like the Power Dock, the Navigation Dock is $39.95 and can be ordered from Motorola.
source: Motorola (
PowerDock
|
NavigationDock
) via AndroidCentral (
1
), (
2
)