Motorola Moto X 2013 Review
99+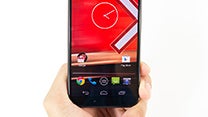 Introduction:
If you haven't noticed, Motorola has been relatively quiet in the smartphone space for the last couple of years now. Sure, we've seen some high-end devices during that time, like last year's
DROID RAZR MAXX HD
for example, but the brunt of Moto's love has been mostly exclusive to Verizon – leaving everyone else in a dry spell. Naturally, Google's acquisition of Motorola had a lot to do with it, as the company soon restructured its strategy by focusing its efforts on fewer devices, rather than going with the usual approach of over-saturating the market with an army of devices. Adios Motorola CLIQs! Bye-bye Motorola ATRIXs! Sayonara Motorola Photons! It seemed as though the brakes were applied everywhere, except Verizon and its DROID line.
Enter a new era in Motorola's history, where they intend on bringing to market a single new flagship device that would take on the competition. Indeed, Google might be pulling some strings behind the scenes and all, but this new Motorola is taking a highly different approach – one that seems very uncanny for them to do. Instead of seeing different lines of Motorola made Android phones, the
Moto X
is that diamond in the rough device that Motorola is banking on to attract consumers to Motorola's new approach to the business. In an era where cutting edge Android smartphones are leaving long lasting impressions, it'll be intriguing to see whether the Moto X will have the guts and execution to redefine the game.
The package contains:
microUSB cable
Wall Charger
SIM Removal Tool
Get Started Guide
Safe, Smart, & Protected Guide
Design:
It's not stylish by any means, nor is it exuding a premium element to its construction, but the Moto X's design is best described as humbling and modest. Visually, the design is understated when compared to the beauties out there, like the HTC One and iPhone 5, but regardless of that, it's the size of the phone and its ergonomic aesthetics that really impresses us the most. First and foremost, this doesn't feel or look like a smartphone that's packing a 4.7-inch display, as it barely feels any bigger than the iPhone 5, which has a significantly smaller screen. And at the same time, it makes the HTC One appear comparably gigantic. Certainly, it's not the skinniest thing out there, but the tapered edges help to make it seem skinnier than it really is in person.
Constructed out of this composite material, which is essentially a plastic frame, it helps to keep the handset very lightweight (4.59 oz) – thus, complementing its compact stature. Taking a closer look at the rear casing, the rubbery finish definitely helps to keep it clean and dirt-free, but there's also an attractive pattern on it that mimics the look of carbon fiber. Considering that the rear casing has a prominent curve with its construction, it makes for one comfortable and natural feel in the hand. Some might view the design as uninspiring or boring, but there's one unique aspect with the Moto X that differentiates itself from everything else out there – customized designs, which we'll expand in the next section.
As for the rest of the phone, we're pretty much greeted to the usual suspect of characters. Seeing that it's running a mostly stock Android experience, there are no capacitive buttons on its façade, but we do take notice of its narrow earpiece, light/proximity sensors, and front-facing 2-megapixel camera.
Looking around its trim
, we're greeted to the usual suspects that we find. It physical power button and volume control may be really thin to the eye, but they're distinct to the touch and responsive when pressed. Rounding things out, we have a 3.5mm headset jack, noise cancelling microphone, and its microUSB port for charging/data connectivity. Sorry folks, there's no quick and easy physical video-out connection with this, but rather, you'll need to rely on its "Wireless Display" feature to get the job done – though, it's only compatible with Miracast Wireless enabled displays.
In the rear
, it's sporting a 10-megapixel Clear Pixel camera, similar to what's featured on the new line of DROIDs too. Naturally, it's complemented by an LED flash.
Moto Maker:
The base models of the Moto X are nothing worth writing home about, especially when they're just generic looking. Going with a totally new approach to the process, Moto Maker provides prospective owners the power to
customize the Moto X – inside and out
, through its online portal. It's something different, obviously, as we're given options to selecting the color scheme and design pattern with the phone's casing. Additionally, we can even choose what colors the accents on the phone are going to be – like the ring around the camera lens and its power button.
If that isn't enough, there are also various secondary customizations that can be made to the handset's software. From having a personal message load with the phone's boot up process, to choosing a complementary background wallpaper to match the color of the phone, it's pretty amazing what can be done! Heck, you can even purchase accessories, like cases and headphones, that can match the unique look of your particular Moto X.
Depending on the selections, the price of the phone will undoubtedly go up from the base white/black models of the Moto X. Further down the road, we'll even see other unconventional materials for its frame; like actual wooden bodies. Since the phone is assembled all in the good old U, S, of A, the turn-around time for a custom job takes 4 days or less (subject to parts availability). Without question, this is an undertaking that we haven't seen before with a phone. On one hand, we're thrilled by this new prospect, but the downside is that it's
exclusive to only AT&T for now
. We're crossing our fingers that this will be rolled out to everyone else soon too – including the Google Play Edition version when it launches in the future.
Display:
Let's not beat around the bushes here folks, but the specs on the Moto X's display are nothing worth bragging about. By today's standards, its
4.7-inch 720x1280 (720p) AMOLED display
is far from imposing, especially when compared to the 1080p beasts floating about. Details are effective enough to make everyday things easy on the eyes, seeing that it employs the favorable RGB arrangement with its pixels – while its saturated color reproduction and wide viewing angles are expected qualities from what we're normally exposed to with AMOLED tech. Out of everything, though, it's the edge-to-edge nature and minimal bezels of the display that are absolutely amazing. In fact, it helps to make the handset extremely form fitting and compact – more than anything else we've seen!
Another interesting aspect is the
Active Display feature
of the handset, which shows pertinent notifications in a confined area on the display – thus, helping it to reduce power consumption. Instead of turning on the Moto X to view notifications, Active Display will initiate whenever it receives something new, or when it's nudges or flipped over from a display down position. Its purpose works, especially when we're now less inclined to turn on the phone all the time.
Motorola Moto X 360-Degrees View: