Welcome the Sony Ericsson Xperia pro - a 3.7-inch QWERTY slider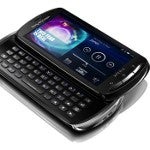 Sony Ericsson's Xperia Play might have taken all of the limelight at MWC, but for people notcrazed on gaming a QWERTY keyboard might be far more important. TheSony Ericsson Xperia pro has it - along with a 3.7-inch screen with a resolution of 480 x 854 and a 1GHz Snapdragon processor. Except for the keyboard, the Xperia pro seems an exact copy of the Sony Ericsson Xperia Neo with the Sony Bravia engine for graphics, an 8-megapixel camera with LED flash and capable of HD video capture on the back, as well as a 2-megapixel shooter up front. Both also share Gingerbread, 320MB of internal memory and Sony Ericsson's own Timescape skinning on top of Gingerbread. When it comes to connectivity, the Xperia pro has the basics covered with Wi-Fi and Bluetooth as well as support for 3G networks in North America.

The keyboard will be key for differentiating the Xperia pro and it certainly looks spacious and comfortable. The phone will come in silver, red and black. Notably, the Xperia pro is the only handset Sony Ericsson managed to keep a secret. Excited? Stay tuned as we are live in Barcelona and hoping to get a first-hand experience with the phone soon!
source: Sony Ericsson