Watch the full D11 interview with Android chief Sundar Pichai
3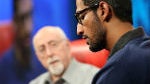 New Android chief Sundar Pichai had a pretty solid talk with The Wall Street Journal's Walt Mossberg today. Pichai talked about a lot of things, including the
HTC One Google Edition
,
Google Play Music All Access
coming to iOS, when
Windows Phone and BlackBerry
will see Google apps, and
why you should trust Google with your data
. It was quite an interesting chat, and now you can watch the full interview video.
In addition to the topics that we covered, Pichai also talked about Motorola, the collaborative relationship between Google and Samsung, the future of Android, and much more. It's a pretty solid watch, and only about 35 minutes long, so it won't kill your evening if you were planning on catching game 5 between the Heat and the Pacers, or... washing your hair, or something. We don't know what you do, we just like to suggest things we find interesting.
Enjoy!