Sundar Pichai explains why you should trust Google with your data
52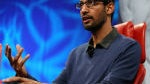 It's about time someone from Google came out and did this, because there is a constant push back from users about privacy and the amount of data that Google collects on its users (not to mention the somewhat misleading attack campaign from Microsoft). We've talked before about the idea of the
personal data trade
, but today Sundar Pichai clearly and succinctly explained exactly why you should trust Google with your data.
Walt Mossberg mentioned the amount of data that is being collected in order to power products like Google Now, and asked why he shouldn't be nervous about what Google does. Pichai responded:
It's a good and important question. When we build cloud services, I think it's a huge responsibility we have when we run cloud services because there's a lot of data.
There are three things we have to do. First, we have to give a lot of value to you. So when you walk into an airport and Google Now gives you your boarding pass, that's great. Second, having transparency and giving users control. Walt talked about Amazon — these are open systems, and the switching costs aren't very high. We only get to do what we do as long as we do right by users. Third, people have a choice.
If that sounds familiar, it may be because those are similar arguments to what we've made before, but it's good to have someone from Google address the topic. Privacy is a concern, but what many people don't realize is that
if Google loses the public's trust, the entire business could collapse
. If Google can't protect user data, users stop feeding the system, and Google's services and main revenue stream (advertising) rely on that data.