Android head Sundar Pichai confirms HTC One Google Edition, coming June 26th for $599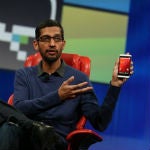 We're not sure who decided that the AllThingsD D11 conference was the new "it" place to announce some pretty big things, especially since companies have been so excited to hold their own announcement events. But, we've already had Apple's
Tim Cook
making headlines, and Motorola CEO Dennis Woodside confirming the
Moto X
. Now, Android head Sundar Pichai has confirmed the HTC One Google Edition.
The HTC One Google Edition will be unlocked and compatible with both AT&T and T-Mobile. It will launch running Android
4.2
.2 and all updates after that will come directly from Google.
*Update* In another interesting turn, HTC has said that it is "examining the best way to support early adopters of the One" who may want the vanilla Android experience. It doesn't mean anything specific will happen, but it could mean that HTC will release an official ROM to make any unlocked HTC One into a Google Edition.