Sundar Pichai says when WP and BB have more users, Google will make apps
47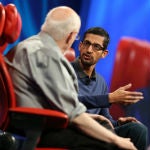 Windows Phone and BlackBerry users are always asking why Google is so eager to support iOS, but not their platforms. Google has given the same answer before, and new Android chief Sundar Pichai has reiterated it once again: if you don't have the users, you don't get the apps. The comment came on the heels of Pichai saying that
Google Play Music All Access
would be the newest Google app to make its way to iOS.
Pichai had just finished talking about how how it is "in Google's DNA... to be universally accessible", and how the company cares "about reaching users all over the world, including the five billion users who don't have smartphones today." The idea of course is that Google wants its services in the hands of everyone. And then, good old Walt Mossberg asked about Windows Phone and BlackBerry, to which Pichai responded:
We want to reach as many people as possible. For platforms that don't have that many users at scale, we have great HTML5 apps. If they get more users, we will make apps.
It's a response that we expected, and one that makes sense. Even a company of Google's size has limited resources and needs to pick and choose where to put development efforts. There's no clear idea of how many users a platform would need to get Google's attention though.