Video previews will now appear in Google search results on Android
3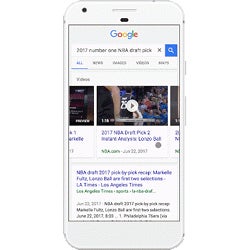 Great news for Android users, as Google has just announced it has improved its
search app
on mobile devices powered by its platform. Video previews should appear on Android devices when you search for something.
The new feature is available starting today on the Google app for Android and
Chrome on Android
, so expect to see video previews when video results show up in the video carousel in the same manner that text snippets appear when you search for texts.
According to Google, these video previews will only play when your device is connected to a Wi-Fi network. Keep in mind that in order to these previews to work on mobile networks, you will need to enable it from the settings menu within the Google app or settings for
Android Chrome browser
.
Although the roll-out is starting today, the new feature will be made available to a larger audience only next week, so don't fret if you can't see any video previews in your search results.