Viber users can edit their sent messages after the latest update
1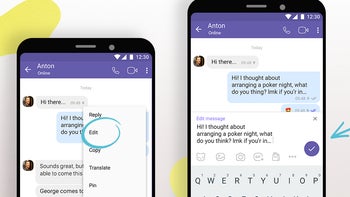 Viber recently released a new update for its
Android app
, which brings a new feature that's rarely available to messenger users. With the latest version of Viber, users will be able to edit their sent messages, just like you can in Skype.
Also, a couple of other improvements have been implemented, such as a new and improved way to share Viber screenshots with your contacts. The changelog mentions that some performance improvements and bug fixes have been added too, which are supposed to offer users a better Viber experience.
If you own an Android device, you can now long press on the message that you've sent and tap edit to make the necessary changes. Obviously, the other person will see that the message has been edited, but that's of less importance.
Now, these changes aren't available for iOS users, so if you're running
Viber on an iPhone
, you won't get the benefit of these improvements.