Vertical, beyond-Quad HD (1440 x 2560) wallpapers for your Galaxy S6, S6 edge, LG G4, Note 4, DROID Turbo, and Nexus 6
3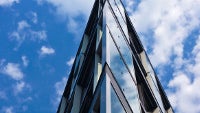 If your smartphone totes a display with a Quad HD (1440 x 2560) pixel resolution, and that's part of the reason you bought it in the first place, it's probably a good idea to ensure that ever pixel is lit up once you set a wallpaper. The ones available by default with your phone will get you there, but if you're looking for something different or more specific, you might find it hard to get your hands on genuinely high-res walls, and especially if you're looking for vertical, non-scrollable ones.
For this weeks pick, we wanted to focus on vertical wallpapers (1440 x 2560 instead of 2560 x 1440), and looked specifically for texture and architecture style backgrounds. We've still included a number of other, non-vertical works (which are great), but again, the focus this time around was on vertical.
30+ Infinity Display wallpapers for phones with tall screens
50+ Beautiful high-res wallpapers, perfect for your LG G7, Galaxy S9, Pixel 2 XL, iPhone X, and others
50+ Awesome high-res wallpapers, perfect for your Galaxy S9, Pixel 2 XL, iPhone X, Huawei P20 Pro, and others
Beautiful, high-res smartphone wallpapers
Beautiful, dark wallpapers perfect for OLED smartphones
Expand timeline
Loading ...