Verizon gets the jump, will release the Nokia Lumia 2520 on November 21st
2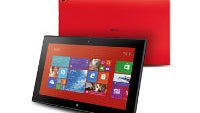 Recently, AT&T announced that it would be releasing the Nokia Lumia 2520 tablet this Friday,
November 22nd
, the same day as the
Xbone
Xbox One launch. Of course, being the first to announce doesn't mean you'll be the first to market. Verizon has gotten the jump on AT&T, and has announced that it will be releasing the tablet this Thursday, November 21st.
Just like AT&T, Verizon will be selling the new Windows RT tablet for $499 without a contract, or $399 with a two-year agreement. This is a limited time offer, but Verizon hasn't said when the deal ends and the price goes up to $499. Customers will also be able to add the Lumia 2520 to their Share Everything plan on Verizon for just $10 per month. Verizon is not offering any special bundle plans like AT&T, likely because AT&T has the exclusive on the Nokia Lumia 1520 right now.
Verizon will only be selling the black model of the 2520 tablet in stores; so, if you want to get your hands on the red model, you'll have to do so through Verizon's website.