Verizon approves the Android 4.2.2 update for the Galaxy Nexus
20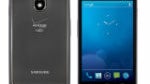 Good news, Verizon Galaxy Nexus owners! You are about to get the update to the newest version of Android, because Verizon has finally approved the update to 4.2.2 for the Samsung Galaxy Nexus. Enjoy it, because there's a fair chance that when Android 5.0 lands in a couple months, you'll be left behind once again.
We had heard rumors that the Jelly Bean update was
testing
for the Galaxy Nexus back at the beginning of February, and at the time, the rumor was that the update would be released in mid-February. That estimation turned out to be off by a solid month. Verizon announced today that the update is ready and it will start rolling out today.
The rollout will come in waves, but you should be getting the update soon enough, and you'll get to play around with the new gesture keyboard, and various camera features like Photosphere and filters.